Sentimental Economy (Hardcover)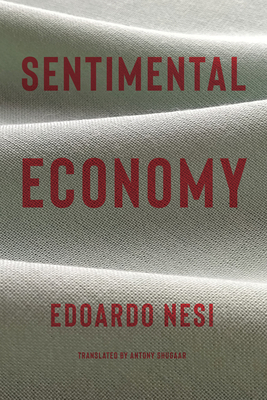 List Price: $22.99
Our Price: $21.99
(Save: $1.00 4%)
Description
---
In a warm, perceptive essay that touches on economics, fashion, literature, and politics, the Strega Prize–winning author of Story of My People reflects on the seismic shifts of 2020 and the diverse ways we're adapting.

Attempting to make sense of the incredible upheaval of 2020—from the devastating impact of COVID-19 to the sudden loss of his father—Edoardo Nesi considers the changing global economy and its effect on our lives. He shares the stories of Alberto Magelli, a small textile entrepreneur; Livia Firth, a prominent advocate for sustainability; Elisa Martelli, a young Sangiovese winemaker; Enrico Giovannini, a leading economist and statistician; Rino Pratesi, a proud butcher from the heart of Tuscany; and more.

From the overworked to the unemployed, we're all grappling with difficult questions about our current disorienting world: Will we ever feel healthy again, and what will it take to regain "normality?" What does progress mean today? Have science and technology let us down? What will the increased prevalence of remote working mean for our cities, and for our lifestyles generally? Deftly weaving together the personal and the economic, Nesi takes us on a fascinating journey to understanding.
About the Author
---
Edoardo Nesi is a writer, filmmaker, and translator. He began his career translating the work of such authors as Bruce Chatwin, Malcolm Lowry, Stephen King, and Quentin Tarantino. He has written six novels, one of which, L'età dell'oro, was a finalist for the 2005 Strega Prize and a winner of the Bruno Cavallini Prize. He wrote and directed the film Fughe da fermo, based on his novel of the same name, and has translated David Foster Wallace's Infinite Jest into Italian. In 2013 he was elected as a member of the Italian Parliament's Chamber of Deputies.

Antony Shugaar is the author of a number of books and has translated hundreds of others, including Everything Is Broken Up and Dances by Edoardo Nesi and Guido Maria Brera, Notes on a Shipwreck by Davide Enia, and The Piranhas and Savage Kiss by Roberto Saviano. His translation of Gianni Rodari's Telephone Tales received the American Library Association's 2021 Batchelder Award. He is the editor-in-chief of Redcar Press, a new publishing house focusing on translated fiction and graphic novels.

Praise For…
---
"A beautiful and heartbreaking account…It's not easy to stitch economics and emotions together on the page, but the author accomplishes it with aplomb. Haunting and lovely: Readers will eagerly join Nesi in his remembrances." —Kirkus Reviews (starred review)

"An intimate account of very recent history and an expansive story of a nation. Only Nesi could enfold fashion, economic theory, and literature into something so lapidary and beautiful." —Ryan Chapman, author of Riots I Have Known

"This elegant, witty book about Italy, economics, Covid, family (most specifically, the writer's father), is like a miracle fabric from Nesi's hometown of Prato, woven with a critical eye to innovation, obsolescence, heartbreak, and sustainability. With a winning mix of rigor and feeling, Nesi applies Platonic questioning to economic experts, friends, and his personal memories, until past losses and the unknown present absorb us like a good novel." —Wallis Wilde-Menozzi, author of Silence and Silences and Mother Tongue: An American Life in Italy

"This is a book about loss: of a beloved father, of the country he represented in his son's eyes, and of a promised future of continual progress and social advancement. As Italy becomes the first European nation gripped by the pandemic, Nesi picks up his phone and calls old friends, including a leading economist, an industrialist, a screenwriter, and a wine consultant, asking them what is going to happen. Their predictions are interleaved with his own amusing and poignant reflections on work, family, and Italian culture as the world around him shifts, at least temporarily, beyond recognition." —James Attlee, author of Under the Rainbow: Voices from Lockdown