Impossible Causes (Hardcover)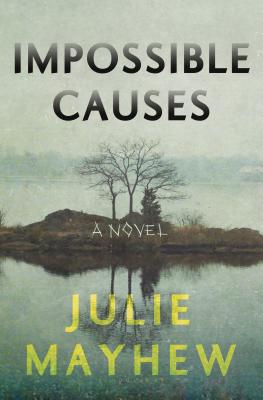 $26.00
Special Order - Subject to Availability
Description
---
For readers of All the Missing Girls and You Will Know Me, Impossible Causes is a gripping, claustrophobic thriller about isolation, power, and the lies that fester when witnesses stay silent.

For seven months of the year, the remote island of Lark is fogbound, cut off completely from the mainland.

Three strangers arrive before the mists fall: Ben Hailey, a charismatic teacher looking to make his mark, teenager Viola Kendrick, and her mother, both seeking a place to hide from unspeakable tragedy.

As the winter fog sets in, the presence of the newcomers looms large in this tight-knit community. They watch as their women fall under the teacher's spell. And they watch as their daughters draw the mysterious Viola into their circle. The girls begin to meet furtively at night, dancing further and further away from the religious traditions that have held Lark together for generations.

But when a body is found one morning at the girls' meeting place, high up among the sacred stones of Lark, faith turns instantly to suspicion and fear. For the island is weighted with its own dark secrets, and now it is time for them to come into the light.

Eerie and menacing, timely and moving, Impossible Causes is an unputdownable thriller that examines the consequences of silence kept at young women's expense.
About the Author
---
Julie Mayhew is the author of the young adult novels Red Ink and The Big Lie. She is also a prolific writer for radio and has twice been nominated for Best Original Drama at the BBC Audio Drama Awards for her plays. She lives in Hertfordshire, England, with her family.
Website: www.juliemayhew.co.uk, Twitter: @juliemayhew
Praise For…
---
"Atmospheric and downright creepy." - BookPage

"This highly imaginative novel and its meticulously created community of characters was an addictive read with twists and turns and a wonderful sense of place. Beautifully written, beguiling and compelling." —Lisa Ballantyne, author of The Guilty One

"The picture that emerges is an important one, concerning itself with the external governance of women's bodies, their actions and their fates." —New York Times Book Review

"When newcomers move to an isolated island, old secrets threaten long-established order in this engrossing psychological thriller with hints of magic. . . Engaging characters, well-crafted suspense, and a tone of growing, claustrophobic dread add up to an effective thriller." —Kirkus

"[Impossible Causes] effectively probes the teenage psyche while offering a compelling look at the perils of an insular society. . . a teenage heroine and a chilling tale of murder on an isolated island off the coast of England will draw YA suspense fans." —Booklist

"Impossible Causes is a haunting work, filled with explorations into the power of lies, the consequences of silence, and the intensity that can envelop the relationships between teenage girls – a book that feels at once timeless and very modern." —BookTrib

"A beautiful piece of writing -- hypnotically convincing, eerie and disturbing. Mayhew is a voice I long to hear more of." —Alex Marwood, author of The Wicked Girls

"Claustrophobic… well-written… the final scene is chilling." —Literary Review

"Both poignant and thrilling." —Crime Monthly, 4 stars