Creatures of Passage (Paperback)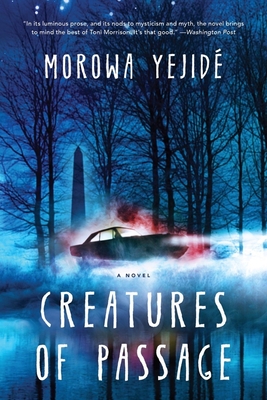 $17.95

Not Available In-Store - Usually Ships from Warehouse in 1-5 Days
Description
---
With echoes of Toni Morrison's Beloved, Yejid 's novel explores a forgotten quadrant of Washington, DC, and the ghosts that haunt it.
Longlisted for the 2022 Women's Prize for Fiction
"Yejid 's writing captures both real news and spiritual truths with the deftness and capacious imagination of her writing foremothers: Zora Neale Hurston, Toni Morrison and N.K. Jemisin...Creatures of Passage is that rare novel that dispenses ancestral wisdom and literary virtuosity in equal measure."
--Washington Post
"The novel is worthy of every Toni Morrison comparison it receives, effortlessly blending the brutalities of D.C.'s history with the mythical and supernatural. Creatures of Passage is a lyrical journey that will stick with you."
--NPR, a Best Book of 2021
"Creatures of Passage resists comparison. It's reminiscent of Beloved as well as the Odyssey, but perhaps its most apt progenitor is the genre of epic poems performed by the djelis of West Africa...All these otherwise clashing elements become, in this cast, a cohesive whole, telling us that this, too, is America."
--New York Times Book Review
"In its luminous prose, and its nods to mysticism and myth, the novel brings to mind the best of Toni Morrison. It's that good."
--Washington Post, One of the Best Books about Washington, DC
Nephthys Kinwell is a taxi driver of sorts in Washington, DC, ferrying passengers in a 1967 Plymouth Belvedere with a ghost in the trunk. Endless rides and alcohol help her manage her grief over the death of her twin brother, Osiris, who was murdered and dumped in the Anacostia River.
Unknown to Nephthys when the novel opens in 1977, her estranged great-nephew, ten-year-old Dash, is finding himself drawn to the banks of that very same river. It is there that Dash--reeling from having witnessed an act of molestation at his school, but still questioning what and who he saw--has charmed conversations with a mysterious figure he calls the "River Man."
When Dash arrives unexpectedly at Nephthys's door bearing a cryptic note about his unusual conversations with the River Man, Nephthys must face what frightens her most.
Morowa Yejid 's deeply captivating novel shows us an unseen Washington filled with otherworldly landscapes, flawed super-humans, and reluctant ghosts, and brings together a community intent on saving one young boy in order to reclaim itself.