My American Life (Hardcover)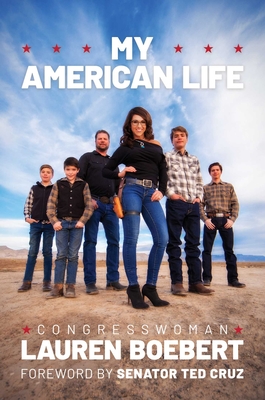 $28.00

Not Available In-Store - Usually Ships from Warehouse in 1-5 Days
Description
---
How Lauren Boebert, the gun-toting Congresswoman from Rifle, Colorado, joined the fight to make sure we never live in a socialist country.

Lauren Boebert is the Republican, gun-toting Congresswoman from Rifle, Colorado who overcame difficult life circumstances to be a leading voice for personal freedom and our 2nd Amendment rights. Raised on welfare in a Democrat household, young Lauren learned from her first job at McDonald's that she could provide for herself better than the government ever could. She gained national attention after wearing a Glock on her hip and telling Democrat presidential candidate Beto O'Rourke, "Hell no, you aren't taking our guns." A self-taught conservative and small business owner, Lauren Boebert's My American Life describes in vivid detail why Lauren dropped out of high school, the success of Shooters Grill (where her restaurant staff open-carries live firearms), and how she came to be a United States Congresswoman making sure her four boys never grow up in a socialist country. Lauren Boebert is a true believer in the opportunity of an America based on the beliefs in God, family, and country, where a one-hundred-pound, five-foot-nothing mom who had never been elected to public office suddenly had the opportunity, in Congress, to stand up for our core conservative beliefs and call Nancy Pelosi, AOC, and the rest of the crazy liberals out on all their bullcrap.
About the Author
---
Lauren Boebert became the first mom to represent Colorado's Third District in Congress after unseating a five-term incumbent Congressman; then, despite being outspent nearly 2–1, she defeated her Democrat opponent on November 3, 2020. Lauren's historic victory showed that no amount of money can beat good, old-fashioned grassroots enthusiasm and hard work. Lauren believes in personal freedom, citizen rights, and upholding the Constitution of the United States. She is also the founder, owner, and operator of Shooters Grill, a restaurant that earned national notoriety for staff who proudly open-carry as they serve their customers.