Queer Nature: A Poetry Anthology (Paperback)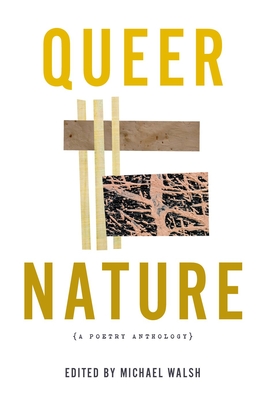 Description
---
An anthology of queer nature poetry spanning three centuries.
 
This anthology amplifies and centers LGBTQIA+ voices and perspectives in a collection of contemporary nature poetry. Showcasing over two hundred queer writers from the nineteenth to the twenty-first century, Queer Nature offers a new context for and expands upon the canon of nature poetry while also offering new lenses through which to view queerness and the natural world. 
 
In the introduction, editor Michael Walsh writes that the anthology is "concerned with poems that speak to and about nature as the term is applied in everyday language to queer and trans bodies and identities . . . Queer Nature remains interested in elements, flora, fauna, habitats, homes, and natural forces—literary aspects of the work that allow queer and trans people to speak within their specific cultural and literary histories of the abnormal, the animal, the elemental, and the unnatural." The anthology features poets including Elizabeth Bishop, Richard Blanco, Kay Ryan, Jericho Brown, Allen Ginsberg, Natalie Diaz, and June Jordan, as well as emerging voices such as Jari Bradley, Alicia Mountain, Eric Tran, and Jim Whiteside.
 
About the Author
---
Michael Walsh is the author of poetry books including The Dirt Riddles and Creep Love, as well as two chapbooks: Adam Walking the Garden and Sleepwalks. His poems and stories have appeared in journals such as The Journal, Chattahoochee Review, Alaska Quarterly Review, Cimarron Review, Crab Orchard Review,Great River Review, North Dakota Quarterly, and Prairie Schooner. He lives in Minneapolis and works as a curriculum administrator at the University of Minnesota.
Praise For…
---
"This significant anthology features three centuries' worth of more than 200 LGBTQ poets' writing on the natural world. . . . This beautifully curated anthology reshapes the genre of nature poetry and awakens readers to its richness."
— Publishers Weekly

" '...In these pages, you will find the birds, the bees' as well as deer, gay bars, riverbanks, bedrooms, field, and forests.... habitats in which these poems lament and sing."
— Edge Media Network

"When heteronormativity prescribes a binary to everything it touches—something is either natural or unnatural—what a salve to reclaim and celebrate nature in its sprawling wonder and unfettered queerness. This is an invitation to readers who've long felt excluded from representations of the natural and pastoral. No longer stripped of its wildness and subtext, the nature reflected in these poems is the breadth of human experience: its complexities and aches, its trauma and desires, its richness and possibilities. Queer Nature understands nature resists constraint and simplification. It is boundless and borderless. It belongs to everyone."
— Ruth Awad, author of Set to Music a Wildfire

"Imagine my delight and pride in being a part of this anthology! Imagine your pleasure as you immerse yourself in this beauty of queerness! This is a must-have book for all."
— Chrystos, author of Fire Power, In Her I Am, and Not Vanishing

"This anthology makes visible the astonishing range and impact of queer poets. Page after page shimmers with emotional and intellectual pleasures—these poems will make you think, weep, sing, and sigh with relief. Walsh's remarkable curation reminds us what's natural has always been queer and what's queer is always natural."
— Eduardo C. Corral, author of Guillotine

"Queer Nature grew from one queer farm boy's longing for poetry that spoke to his complex love for the natural world he loved but to which, he was taught, love like his did not belong. Like a dowsing rod, this longing led Walsh to an underground poetic river, a heretofore obscure but essential American lyric tradition of conceiving, celebrating, and mourning nature. Gathering poets of innumerable ethnicities, histories, styles, and sexual and gender identifications, this book gives us access to a desperately needed aquifer of language that help us reimagine, revitalize, and repair our connection to the world we are destroying."
— Joy Ladin, author of The Future is Trying to Tell Us Something: New and Selected Poems and The Book of Anna

"Queer Nature is a vital anthology, generous in scope and elegantly cultivated Walsh. As I began reading Queer Nature, I started highlighting passages that illuminated for me new paths of understanding. Now the whole book is neon, glowing: Queer Nature—a moon, Queer Nature—a firefly, Queer Nature­—a fish in the dark abyss shining its own extraordinary light. Reader, if you hold this surprising and luminous anthology close it just might guide you home."
— Alicia Mountain, PhD, author of High Ground Coward

"Queer people have had, are having, and will continue to have complicated relationships to nature, which is why this anthology of poems marks an important and nuanced contribution to our understanding of the nature poem. The real joy of Queer Nature, though, is the diversity of poems assembled here and their multifaceted renderings of nature, which challenge any simplistic understanding of the pastoral. By gathering these poems from the past 150 years in this long overdue and critically important anthology, Walsh has accomplished an incredible thing."
— Jacques J. Rancourt, author of Brocken Spectre and Novena

"The poems in Queer Nature investigate the ways we inhabit ourselves and our landscapes—everywhere unfurling, throwing roots, spores. Here, the ground is rich with worm and bone. Here, the concerns are both urgent and eternal. How do we locate the places where we can survive? How do we create them? And, ultimately, how will we create and recreate ourselves so we can thrive?"
— Richard Siken, author of Crush and War of the Foxes

"I fell in love on nearly every page of Queer Nature. Sure, there is suffering to consider in our long journey into the light of acceptance and recognition, but what tumbles out of these poems again and again are affirmations of love and the reek of hope. This anthology is a homecoming. Readers will recognize many of these voices and be moved by the magnitude of the rich populous of queer eco-centric nature poets gathered here. I am less lonely, less terrified of my queerness, as I pour through these pages. This is a magnificent collection."
— Amber Flora Thomas, author of Eye of Water: Poems

"The poems in this remarkable collection work in both tandem and contradiction to make the irrefutable sound of queer ecologies. An aching intervention into the violent logics that position queerness as the antithesis of a natural world, Queer Nature says otherwise. The poems congeal, illuminating again and again that queer is nature. Queer is the animal. Queer are the hands 'moved like rivers.' Queer is the genre of the poem itself—its small and infinite ecosystem."
— Stacey Waite, author of Butch Geography

"A curated collection like this allows us to discover modern poets whose voices we might not otherwise have heard."
— Gay and Lesbian Review