Stranger than I thought (Paperback)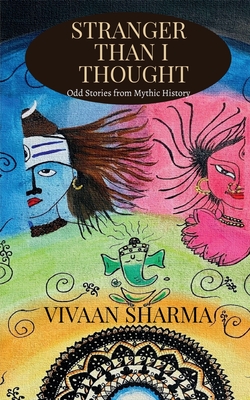 $10.99

Not Available In-Store - Usually Ships from Warehouse in 1-5 Days
Description
---
This book 'Stranger than I thoughtOdd stories from Mythic History' is a humble attempt to portray and put together few stories which are mostly unfamiliar to the children, encouraging them to embrace the abnormal, the anomalous past and find magical meaning even in the most mundane moments.
In this book there are stories about Hindu Gods, kings, devotees and demons, but out of those, many of the legends remain relatively unknown because of their weirdness. I present these enjoyable tales to you with an imaginative twist. So, on one end of the spectrum of strangeness we have-
- Creation of rivers
- Warring Deities
- Petrification
- Psychic Powers
But on the other end we have
- Shapeshifting into animals and the opposite gender (In Shiva's case, both at the same time)
- Fusing into a Goddess' body
Each chapter is started with fine detailing to facilitate the reading, understanding and enjoying the stories, which took real time for me to explore and understand the exhausting glossaries. The beginners to Hindu Mythology, will also be able to read this book because basic information about the main character of each chapter.