Pay No Heed to the Rockets: Life in Contemporary Palestine (Hardcover)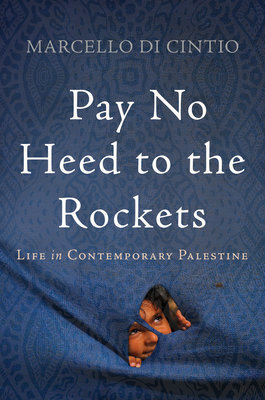 $26.00
Special Order - Subject to Availability
Description
---
A look at life in contemporary Palestine through the lens of its literary culture
Marcello Di Cintio first visited Palestine in 1999, and as with most outsiders, the narrative he knew was one defined by unending struggle, a near-Sisyphean curse of stories of oppression, exile, and occupation.
In Pay No Heed to the Rockets, he reveals a more complex story--the Palestinian experience as seen through the lens of authors, books, and literature. Using the form of a political-literary travelogue, he explores what literature means to modern Palestinians and how Palestinians make sense of the conflict between a rich imaginative life and the daily tedium and violence of survival. Taking the long route through the West Bank, into Jerusalem, across Israel, and finally into Gaza, he meets with poets, authors, librarians, and booksellers to learn about Palestine through their eyes, and through the story of their stories.
Di Cintio travels through the rich cultural and literary heritage of Palestine. It's there that he uncovers a humanity, and a beauty, often unnoticed by news media. At the seventieth anniversary of the Arab-Israeli War, Pay No Heed to the Rockets tells a fresh story about Palestine, one that begins with art rather than war.
About the Author
---
Marcello Di Cintio is the author of four books, including the critically acclaimed Walls: Travels Along the Barricades, winner of the 2013 Shaughnessy Cohen Prize for Political Writing and the City of Calgary W.O. Mitchell Book Prize. Di Cintio's essays have been published in The Walrus, Canadian Geographic, The New York Times, Condé Nast Traveller, and Afar. He lives in Calgary.
Praise For…
---
Praise for Pay No Heed to the Rockets

"A powerful journey through Palestine's written art, where silenced authors defend themselves, female writers speak loudly and stolen private libraries are restored." —Atef Abu Saif, author of A Suspended Life, short-listed for the International Prize for Arabic Fiction

"A masterful work. Di Cintio weaves together history with a sense of place, character and dialog infused with humor, to produce a contemporary portrait of a people who continue to resist both occupation and simple categorization." —Selma Dabbagh, author of Out of It, nominated for The Guardian's Book of the Year

"Leaving aside the usual political covens and an inclination to despair, Di Cintio's lucid account of present-day Palestine is the inspired portrait of a nation in dialog with its ghosts past and future affirming its right to be. This is a necessary book for our bewildered times." —Alberto Manguel, author of A History of Reading, and The Dictionary of Imaginary Places

Praise for Walls

Winner of the 2013 City of Calgary W. O. Mitchell Book Prize
Winner of the 2013 Wilfred Eggleston Prize for Nonfiction
Nominated for the 2013 British Columbia National Award for Nonfiction
Nominated for the 2013 Charles Taylor Prize for Literary Nonfiction
Nominated for the 2013 Alberta Readers' Choice Award
Named to The Globe and the Mail's List of the Top 100 Books of 2012

". . . A travelogue that takes the Canadian writer along the frontiers, barricades, and 'peace lines' that give lie to claims of a more-connected globe . . . Di Cintio is eloquent about the psychology of barriers." —Wall Street Journal

"Di Cintio (Poets and Pahlevans: A Journey into the Heart of Iran, 2006, etc.) leads a whirlwind tour of the world, looking at the unlikely places where the human mania for erecting barriers has shown itself . . . Solid journalism that takes readers into cheerless, contested places they probably would not wish to see for themselves. An eye-opener." —Kirkus

"[An] intriguing journey around the world's walls . . . Di Cintio uses his explorations as way of thinking about unresolved conflicts. He is at his best when he makes the trip into an adventure, running the Sahara marathon, collecting smugglers' stories worthy of the Polish master-traveller Ryszard Kapuscinski." —The London Times

"He writes well, unpicking some of the world's trouble spots in spare and lucid prose . . . Di Cintio has a sympathetic ear and an eye on the long, slow melancholy of divided spaces." —Literary Review

"..illuminating, brilliantly composed . . . Di Cintio's book is a travel book that takes its readers through many countries and gives them a sense of what it is like to live on one side of a wall and to experience the fragmentation and destruction of the landscape of one's country. He writes with passion and empathy for the victims of those monstrous walls that take no account of how they affect the human beings living next to them." —The Financial Times

"His wide-ranging narrative mixes geopolitical background with first-hand accounts of dispiriting individual experiences in squalid refugee camps . . . Di Cinto's journeys successfully articulate the diminishing, humiliating effect of the walls on those who have no choice but to push against them." —Sunday Telegraph

"[I don't feel] . . . Di Cintio justifies his upbeat claim, at the end, that 'the urge to tear down barriers is a stronger impulse than the urge to build them.' But what he does do, bravely and forcefully, and with impressive commitment, is to bear witness to the pain and suffering of people who live in the shadow of separation barriers." —The Guardian

"What's it like having a physically massive, politically symbolic barrier for a neighbor? That's the question posted by this deftly written travelogue, which drops into settlements in Israel, Northern Ireland, Mexico and more to paint stark portraits of life beside some of the world's most notorious reinforced borders." —Time Out UK

"An ambitious investigation of the globalized world's underbelly." —Metro UK

"Di Cintio immerses himself in his chosen locations, providing historical background and rich reportage of the many social and political realities of being walled in (or out). What emerges is a collection of interrelated vignettes full of dense description and fascinating characters that vive the reader a true sense of place . . . it is a deeply humane, honest, and even cautious account of an outsider who seeks as much as possible to understand local contexts." —Quill and Quire (starred review)

"Marcello Di Cintio is one of the best travel writers of his generation. In Walls, he tells compelling and engrossing stories with his customary mix of vivid detail, a strong sense of history, a lovely sense of humor and, above all, a fascination with the human race in all its contradictions." —Margaret MacMillan, bestselling author of Dangerous Games, Nixon and Mao, and Paris 1919 and Warden of St Antony's College, Oxford University

"I've never bought the divisive notion that good fences make for good neighbors. But one thing's for sure: Walls make for great stories—something Marcello Di Cintio richly demonstrates in this energetically researched and beautifully recounted work of reportage." —Taras Grescoe, author of Straphanger and Bottomfeeder

"Di Cintio explores eight political hot spots—zones where walls split terrain, people and minds. With admirable legwork and vivid prose, he discovers that these walls and the communities living along both sides of them are sights of fear, illness and suspicion, but also sights of solidarity, storytelling and intense creativity. This journey is his method of engagement, and in reading it he implicates us in the tensions and suppressed ambitions of these divided societies." —Moez Surani, author of Floating Life

"[Di Cintio] observes and reports tirelessly, then makes powerful and poetic connections between all that he has seen and heard. Walls is a moving and extremely engaging book, a reminder of "the constant thrum of hope" amid so many man-made obstacles." —Canadian Geographic