Heart Berries: A Memoir (Paperback)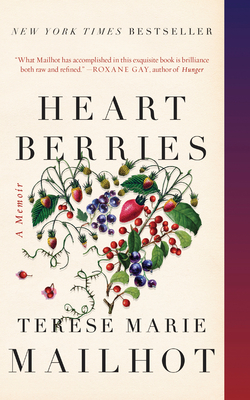 February 2018 Indie Next List
---
"In a time of memoirs that help a reader understand vulnerability and the experience of facing down fear, Terese Marie Mailhot's cathartic, moving Heart Berries is one of the bravest and most fearless of such books. Her coming-of-age on a First Nation reservation, Seabird Island in Canada, is particular to that vividly evoked place, but also carries larger, universal lessons for the human spirit and its survival. A necessary book."
— Rick Simonson, The Elliott Bay Book Company, Seattle, WA
Summer 2019 Reading Group Indie Next List
---
"Heart Berries achieves that most elusive and sacred goal of literature: to make us feel less alone in the world. With a beautiful and original voice, Mailhot applies the precision of a poet to her prose. Each sentence feels necessary, each paragraph vital, as she grapples with daughterhood, motherhood, sisterhood, wifehood, and, finally, selfhood. This is a book written against forgetting, against losing one's self to the needs and desires of others. But this isn't self-help; this is carefully crafted literature, the disciplined work of a masterful artist."
— Tina Ontiveros, Klindt's Booksellers, The Dalles, OR
Description
---
A powerful, poetic memoir of an Indigenous woman's coming of age on the Seabird Island Band in the Pacific Northwest—this New York Times bestseller and Emma Watson Book Club pick is "an illuminating account of grief, abuse and the complex nature of the Native experience . . . at once raw and achingly beautiful (NPR).

Having survived a profoundly dysfunctional upbringing only to find herself hospitalized and facing a dual diagnosis of post traumatic stress disorder and bipolar II disorder, Terese Marie Mailhot is given a notebook and begins to write her way out of trauma. The triumphant result is Heart Berries, a memorial for Mailhot's mother, a social worker and activist who had a thing for prisoners; a story of reconciliation with her father―an abusive drunk and a brilliant artist―who was murdered under mysterious circumstances; and an elegy on how difficult it is to love someone while dragging the long shadows of shame.

Mailhot trusts the reader to understand that memory isn't exact, but melded to imagination, pain, and what we can bring ourselves to accept. Her unique and at times unsettling voice graphically illustrates her mental state. As she writes, she discovers her own true voice, seizes control of her story, and, in so doing, reestablishes her connection to her family, to her people, and to her place in the world.
About the Author
---
Terese Marie Mailhot is from Seabird Island Band. Her work has appeared in Guernica, Elle, Granta, Mother Jones, Medium, Al Jazeera, the Los Angeles Times, and Best American Essays. She is the New York Times bestselling author of Heart Berries: A Memoir. Her book was a finalist for the Governor General's Literary Award for English–Language Nonfiction, and was selected by Emma Watson as the Our Shared Shelf Book Club Pick for March/April 2018. Her book was also the January 2020 pick for Now Read This, a book club from PBS Newshour and The New York Times. Heart Berries was also listed as an NPR Best Book of the Year, a Library Journal Best Book of the Year, a New York Public Library Best Book of the Year, a Chicago Public Library Best Book of the Year, and was one of Harper's Bazaar's Best Books of 2018. She is the recipient of a 2019 Whiting Award, and she is also the recipient of the Spalding Prize for the Promotion of Peace and Justice in Literature. She teaches creative writing at Purdue University.
Praise For…
---
A New York Times bestseller
Selected by Emma Watson as the Our Shared Shelf Book Club Pick for March/April 2018
A PBS Newshour/New York Times Now Read This Book Club Pick
A New York Times Editor's Choice
Winner of the Spalding Prize for the Promotion of Peace and Justice in Literature
Finalist for the Governor General's Literary Award for English–Language Nonfiction
A Barnes & Noble Discover Great New Writers Selection
An NPR Best Book of the Year

"There are so many sentences I had to read again because they were so true and beautiful. It's a memoir of pure poetry and courage and invention. Whenever I think about it, my heart clenches with love." —Cheryl Strayed, The New York Times Book Review

"A sledgehammer . . . Her experiments with structure and language . . . are in the service of trying to find new ways to think about the past, trauma, repetition, and reconciliation, which might be a way of saying a new model for the memoir . . . If Heart Berries is any indication, the work to come will not just surface suppressed stories; it might give birth to new forms." —The New York Times

"A fierce and poetic memoir that grips you from the start and never lets go. Each page, paragraph and sentence is more gut–wrenching than the one before it. An illuminating account of grief, abuse and the complex nature of the Native experience, it is at once raw and achingly beautiful. Terese Mailhot is a truly fearless writer, and this little book is nothing short of a gift." —Juan Vidal, NPR, A Best Book of the Year

"Sometimes a writer's voice is so distinctive, so angry and messy yet wise, that her story takes on the kind of urgency that makes you turn pages faster and faster. Terese Marie Mailhot has one of those voices, and her memoir about being raised on a Canadian reservation and coming to understand what it means to be an indigenous person in modern times is breathtaking." —Esquire

"Mailhot examines the circumstances of her life—replete with grief, abuse, and structural injustice—with searing honesty and forceful language in her tiny but powerful debut. Steeped in several generations' worth of history, Heart Berries demands to be re–read over and over, every return yielding a new insight." —Julie Kosin, Harper's Bazaar

"Eloquent and seething . . . Exquisite." —Leslie Jamison, The Paris Review

"Terse and tough and fierce and honest, Mailhot is an essential new voice in the Native literary world, as well as in the world at large." —Tommy Orange, GQ

"A luminous, poetic memoir." —Entertainment Weekly

"Puts an undeniable spotlight on the trials and oppression of modern Native women. Her memoir includes a poignant statement on the continued colonization of Native women and an attempt to shine a light on the not–so–secret harm colonialist structures causes First Nations Peoples." —Marilyn La Jeunesse, Teen Vogue

"For the person who knows the power of using language to mitigate our feelings of shame. For the person who knows that shame dissipates when you figure out how to tell your story. For the person who has always been told their stories don't matter. For the person who knows that their stories are precisely the kind that matter, because it's been so long and they've never been told. For the person who knows that, after a while, it's easy to mistake pain for the truest form of intimacy. For the person who discovers that there are other ways of being close to people, ways that don't have to hurt always, even if sometimes they do. For the person who knows that truth isn't spelled with a capital T. For the person who knows that the only way out of trauma can be by meeting it head–on." —NYLON

"This gut punch of a memoir . . . [is] essentially a love letter, full of humor and truth, to tough, challenging women everywhere." —Marie Claire

"Utterly arresting . . . Mailhot makes beautiful sentences out of ugly things, addressing the complexities of mental illness, the particular damage wrought by sexual abuse, and the injustices of racism and white male supremacy, in a distinctive, uncompromising style. It is a very empowering read, hard–hitting and politically charged, while at the same time offering a tender celebration of motherhood, its expansive love, its defiance." —Diana Evans, Financial Times

"Sharp and scorching . . . It's exciting to think that a person might be able to write their way out of seemingly insurmountable personal, cultural and historical trauma. It's even more exciting to actually watch someone appear, at least partly, to do so . . . This unconventional epic should be part of the canon." —Chicago Tribune

"An astounding memoir in essays. Here is a wound. Here is need, naked and unapologetic. Here is a mountain woman, towering in words great and small... What Mailhot has accomplished in this exquisite book is brilliance both raw and refined." —Roxane Gay, author of Hunger

"I am quietly reveling in the profundity of Mailhot's deliberate transgression in Heart Berries and its perfect results. I love her suspicion of words. I have always been terrified and in awe of the power of words – but Mailhot does not let them silence her in Heart Berries. She finds the purest way to say what she needs to say... [T]he writing is so good it's hard not to temporarily be distracted from the content or narrative by its brilliance...Perhaps, because this author so generously allows us to be her witness, we are somehow able to see ourselves more clearly and become better witnesses to ourselves." —Emma Watson, Official March/April selection for Our Shared Shelf