Moon Pacific Coast Highway Road Trip: California, Oregon & Washington (Travel Guide) (Paperback)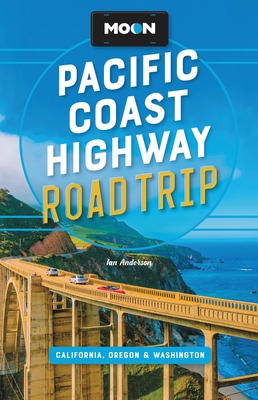 Description
---
1,700 miles of vibrant cities, coastal towns, and glittering ocean views: Embark on your epic PCH journey with Moon Pacific Coast Highway Road Trip. Inside you'll find:
Flexible Itineraries: Drive the entire three-week route or follow suggestions for shorter getaways to Seattle, Portland, San Francisco, Los Angeles, and San Diego
Eat, Sleep, Stop and Explore: With lists of the best beaches, views, restaurants, and more, you'll cruise by sky-scraping redwoods, misty green rainforests, and the black sands of the Lost Coast. Slurp fresh-caught oysters, order up authentic street tacos, or kick back with a craft beer. Dance down rainbow-colored streets in San Francisco's Castro District, tour Seattle's underground old city, and see the stars on the Hollywood Walk of Fame
Maps and Driving Tools: 48 easy-to-use maps keep you oriented on and off the highway, along with site-to-site mileage, driving times, detailed directions for the entire route, and full-color photos throughout
Local Expertise: Californian Ian Anderson shares his love of the open road
Planning Your Trip: Know when and where to get gas, how to avoid traffic, tips for driving in different road and weather conditions, and suggestions for seniors, travelers with disabilities, and road trippers with kids
With Moon Pacific Coast Highway Road Trip's practical tips and detailed itineraries, you're ready to hit the road.
Looking for more scenic road trips in America? Try
The Open Road.
About Moon Travel Guides: Moon was founded in 1973 to empower independent, active, and conscious travel. We prioritize local businesses, outdoor recreation, and traveling strategically and sustainably. Moon Travel Guides are written by local, expert authors with great stories to tell—and they can't wait to share their favorite places with you. 
For more inspiration, follow @moonguides on social media. 
About the Author
---
Born in Oregon and based in California, Ian Anderson has been road-tripping up and down the West Coast since before he could see over the steering wheel. Over the past two decades, he's lived in Portland, San Francisco, Los Angeles, and San Diego, logging more than ten thousand miles on coastal highways, mostly looking for great food, beautiful beaches, and fun surf.

Ian is currently based in San Diego, covering "America's Finest City" as a reporter, beer writer, and restaurant critic for the San Diego Reader. He's written for websites, magazines, and books on topics ranging from music to preserving the environment, but for the most part, Ian's expertise matches his interests-chief among them exploring sights, sounds, and flavors of the west coast-and bringing these experiences to life for readers.
Praise For…
---
"Moon handbooks are always a pleasure to read. The writing is crisp, the research impressive, and the recommendations practical and down to earth."—Chicago Tribune

"The books are more easily readable than other guides. The main attractions are also marked with a special icon and sidebars and boxes highlight special information, making the Moon handbooks one of the most user-friendly guides in terms of visual appeal and organization…the quality is uniformly excellent."—Transitions Abroad

"Far from narrow minded, each Moon travel guide gives itinerary options for a variety of travelers' budgets—from frugal to lavish. They make books catering to those who love the outdoors, those who have limited time, those staying exclusively in cities and those who've fully committed to living abroad. In all, they have hundreds of titles, ranging Bermuda to Budapest, that'll teach you to embrace a new culture."—Gear Patrol, "The Best Travel Guidebooks for Every Journey"

"Moon handbooks have become known as well-written and exceptionally informative guides."—The New York Times

"Moon guides are perfect for the relaxed road tripper or outdoor explorer." —No Small Plan

"Moon handbooks are known for cannily combining logistical information with cultural background of a country or state."—Los Angeles Times