How to Dress a Dinosaur (Board book)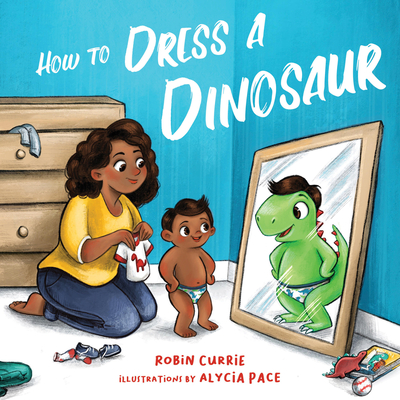 $8.99

Not Available In-Store - Usually Ships from Warehouse in 1-5 Days
Description
---
​Winner of the 2023 Gold Medal BookFest Award
Winner of the 2023 PenCraft Award
Winner of the 2023 FAPA President's Gold Award
Winner of the 2022 Moonbeam Spirit Award Bronze Board Book

ROAR! Dinosaurs don't wear shirts!

Every parent knows the struggle of getting a child dressed and out the door. But with a cast of hilariously coiffed dinosaurs to teach toddlers how to stomp their feet into pant legs and reach their claws into shirts, getting dressed becomes a game. With this playful companion to How to Potty Train a Dinosaur, your little dino lover will beg to join in the fun and get dressed like a dinosaur!
About the Author
---
A professional editor and librarian in the Chicago area, Robin Currie's books have sold over 1.5 million copies. She writes stories that children and their adults will want to read and read again!
Praise For…
---
"A small child doesn't like getting dressed; luckily, his mama knows just what to do.
"ROAR!" A young, brown-skinned toddler with straight dark hair pretends to be a dinosaur, but his mother (also brown-skinned) needs to get him dressed for an outing. She gently suggests that he become a Diplodocus and "RUSH INTO THIS CAVE HEADFIRST"…the "cave" in question being the neck hole of the tyke's jersey. To get him to slide his arms into the jersey's sleeves, his mother encourages him to "BE A VELOCIRAPTOR AND REACH YOUR CLAWS IN TO GRAB SOME FISH." Shirt on, the child is halfway there. In this playful fashion, pants, socks, and shoes follow. Mama employs the same tactics to get through tooth-brushing and getting the tot strapped into the car. The feisty youngster puts up a struggle every step of the way ("HRUMPF! DINOSAURS DON'T WEAR PANTS") but clearly enjoys the imaginative play, assured of his mother's unconditional love. Throughout the book, we see the child (and the mother) on the book's verso pages, and on the recto pages we see the ever-changing dinosaur version of him, swishing his tail, crashing through the jungle, and more. Pace's illustrations are simple and serviceable with uncluttered backgrounds. Toddlers will relate to this entertaining depiction of a universal developmental challenge (i.e. learning how to get dressed) as well as the protagonist's impassioned tantrums.
Fun from opening to clothes, err, close. (Board book. 2-4)"
—Kirkus Review

"Readers of this story see a young boy pretending to be a dinosaur, while they learn how triceratops might stomp its feet, how stegosaurus would kick a ball and swish it with his spiky tail, how pterodactyl flaps his wings as his feet leave the ground and more amazing facts about prehistoric creatures. This book combines charming text with humorous illustrations, bringing dinosaurs from the Jurassic Period into the hearts and imaginations of young readers. This title is sure to be cherished by dinosaur lovers of all ages." —Children's Literature Review

"Parents and grandparents, early childhood teachers, and daycare providers will be nodding their heads as they read this totally relatable picture book by Robin Currie. How to Dress a Dinosaur is an entertaining read-aloud filled with heart and humor that engages from the first page to the last. Vibrant illustrations by Alycia Pace depict a wonderfully diverse family and cast of dinosaur characters that are sure to delight! I wish I'd had this book when I was teaching kindergarten and raising my own children—I might not have had to sing dozens of nonsense songs each time I helped the children get dressed."
—Vivian Kirkfield, BA, MS.Ed, author of From Here to There: Inventions That Changed the Way the World Moves, Making Their Voices Heard: The Inspiring Friendship of Ella Fitzgerald and Marilyn Monroe, and Sweet Dreams, Sarah: From Slavery to Inventor

"How to Dress a Dinosaur captures an everyday conflict: diaper-clad 'dino' versus Mom. With places to go, Mom must navigate the daily routine—the dinosaur way! Don your shirt with a velociraptor and put your pants on with a triceratops. But beware the mama T-Rex! Hilarious art adds human features to a variety of famous dinos. It's easy to see daily life with children in the colorfully illustrated dinos. It'll remind you of trying to get out the door AND the Jurassic period. Perfect for the mom of any dinosaur-obsessed littles."
—Ridgeway Burns, assistant director at Hinsdale Public Library

"For anyone who has ever tried to help an uncooperative young child get dressed—help is on the way! How to Dress a Dinosaur by Robin Currie and Alycia Pace is a creative way to actively engage children in getting dressed by acting like a dinosaur. Getting children ready for school or daycare can be a frustrating contact sport! (I know; I have a two-year-old grandchild!) This book makes that process more of an entertaining game using active imagination. Spoiler alert: This book is not only fun and instructional, it is educational too! Children will learn the names of ten different dinosaurs and what they look like on their way to getting dressed, brushing their teeth, and hopping into their car seat to start their day! It is a ROARING good time!"
—Diane Hessinger, director of children's ministries at St. Mark's Episcopal Church and former preschool director and educator