Shelby American: The Renegades Who Built the Cars, Won the Races, and Lived the Legend (Hardcover)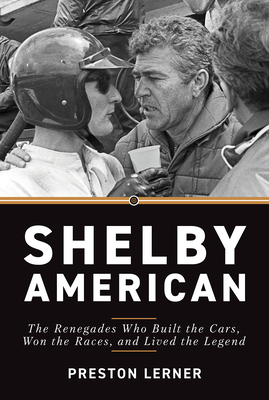 $35.00

Not Available In-Store - Usually Ships from Warehouse in 1-5 Days
Description
---
Shelby American didn't last long, but it was a flame that burned incandescently before being extinguished by corporate politics. In less than a decade, it created a legacy that will be revered as long as cars still roar around racetracks. Now, on the sixtieth anniversary of the founding of this iconic company, Shelby American: The Renegades Who Built the Cars, Won the Races, and Lived the Legend relates how the saga unfolded, as told by the men and women who were there.
Although Carroll Shelby was the focal point of the publicity his company generated, Shelby American was staffed by a who's who of racing royalty, from Phil Remington and Ken Miles to Peter Brock and Carroll Smith. And while the shop is often depicted as a menagerie of Southern California hot-rodders, it also embraced mechanics and fabricators from Canada, England, Switzerland, Australia, and New Zealand. Like the Cobra itself, the company magically came together as a whole that was greater than its constituent parts.
By incorporating the recollections of dozens of lesser-known crewmen, Shelby American goes behind the scenes to tell long untold and misunderstood stories--the cheat embedded in the turbine Indy car, the oiling woes that sunk the tunnel-port Trans-Am Mustang, even details about the build of the first Cobra in Dean Moon's cramped garage in Santa Fe Springs. The book also delves into the personalities and hijinks that made Shelby American such a vibrant place to work, whether team members were transforming humdrum Mustangs into race-ready GT350s or staging shop battles with cherry bombs and M-80s.
Always standing above it all was a tall Texan. Dynamic, charismatic, mercurial, mercenary, and a little bit dangerous, Shelby had to fight Ford bean counters as fiercely as he dueled with Enzo Ferrari. But for a few miraculous years, Shelby managed to beat both of them at their own games.