Extracted: Unmasking Rampant Antisemitism in America's Higher Education (Paperback)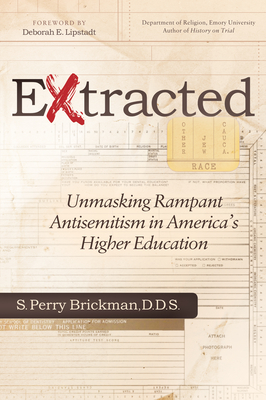 Description
---
For half a century, S Perry Brickman harbored a deep and personally painful secret...
On a late summer day in 2006, Brickman and his wife attended an exhibit on the history of Jewish life at Emory University and were astonished to come face-to-face with documents that strongly suggested that Brickman and many others had been failed out of Emory's dental school because they were Jewish. They decided to embark on an uncharted path to uncover the truth. With no initial allies and plenty of resistance, Brickman awoke each morning determined to continue extracting evidence hidden in deep and previously unmined archives. While the overt discrimination was displayed in charts and graphs, the names of the victims were scrupulously withheld.
The ability of the perpetrators to silence all opposition and the willingness of the Jewish community to submit to the establishment were deeply troubling as Brickman continued to dig deeper into the issue. Extracted brings to light the human element of the rampant antisemitism that affected the dental profession in twentieth-century America--the personal tragedies, the faces, and the individual stories of shame and humiliation. After five years of identifying, interviewing, and recording the victims, Brickman was finally permitted to present his documentary to Emory officials and ask for redemption for the stain she had made.