Dream Play Build: Hands-On Community Engagement for Enduring Spaces and Places (Paperback)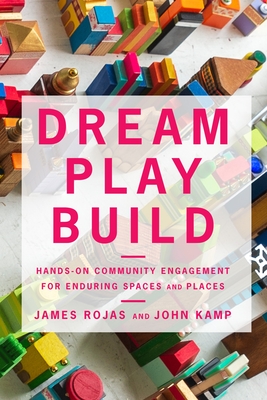 $25.00

Special Order - Subject to Availability
Description
---
The room is dim, the chairs are in perfectly lined rows. The city planner puts up a color-coded diagram of the street improvement project, dreading the inevitable angry responses.
Jana loves her community and is glad to be able to attend the evening meeting, and she has a lot of ideas for community change. But she has a hard time hearing, and can't see the diagrams clearly. She leaves early.
It's time to imagine a different type of community engagement – one that inspires connection, creativity, and fun.

People love their communities and want them to become safer, healthier, more prosperous places. But the standard approach to public meetings somehow makes everyone miserable. Conversations that should be inspiring can become shouting matches. So what would it look like to facilitate truly meaningful discussions between citizens and planners? What if they could be fun?

For twenty years, James Rojas and John Kamp have been looking to art, creative expression, and storytelling to shake up the classic community meeting. In Dream Play Build, they share their insights into building common ground and inviting active participation among diverse groups. Their approach, "Place It!," draws on three methods: the interactive model-building workshop, the pop-up, and site exploration using our senses. Using our hands to build and create is central to what makes us human, helping spark ideas without relying on words to communicate. Deceptively playful, this method is remarkably effective at teasing out community dreams and desires from hands-on activities. Dream Play Build offers wisdom distilled from workshops held around the world, and a deep dive into the transformational approach and results from the South Colton community in southern California. While much of the process was developed through in-person meetings, the book also translates the experience to online engagement--how to make people remember their connections beyond the computer screen.

Inspirational and fun, Dream Play Build celebrates the value of engaging with the dreams we have for our communities. Readers will find themselves weaving these artful, playful lessons and methods into their own efforts for making change within the landscape around them.
About the Author
---
James Rojas is an urban planner, community activist, educator, and artist who runs the planning, model-building, and community-outreach practice Place It!. He is an international expert in public engagement and has traveled around the US, Mexico, Canada, Europe, and South America, facilitating over 500 workshops, and building 100+ interactive models. His research has appeared in the New York Times, Los Angeles Times, Dwell, Places, and in numerous books.
 
John Kamp runs the landscape, urban design, and engagement practice Prairieform. He has developed innovative tools to engage people of all ages and backgrounds in both design and the natural world, with two decades of experience leading hands-on interactive workshops with James Rojas of Place It!. He frequently translates the findings and outcomes of those workshops into designs for inclusive and livable streets and neighborhoods that leave room for all residents to improvise and help create a more welcoming public realm.
Praise For…
---
"Nonetheless, successfully communicating their message in a simple language that expert and amateur planning practitioners and novices can easily comprehend is of great significance. Furthermore, pictographic illustrations—a unique and commendable feature of the text—aid understanding in a way that is both precise and concise. The book will undoubtedly contribute to the existing body of knowledge on urban planning and related disciplines."
— Journal of the American Planning Association

"Dream Play Build is a must-read for land-use planners and government decision makers who engage in place making and community development. It incorporates captivating community stories, useful photos, and illustrations to provide a guide to the Place It! method—a groundbreaking, tactile, and playful tool. Together, Rojas and Kamp make a compelling case for the need to democratize knowledge of, and participation in, city planning for 'everyday people.'"
— Samuel Assefa, Director of the California Governor's Office of Planning and Research

"Part personal journeys, part planning toolkits, Dream Play Build offers an antidote to the common frustrations of public participation. Focusing on senses, memories, and play, James Rojas and John Kamp present methods that can free practitioners and participants from fear, biases, and preoccupations, leading to more imaginative explorations in solving today's planning and design challenges."
— Jeff Hou, Professor of Landscape Architecture, University of Washington, Seattle

"There is community engagement, with surveys and PowerPoint presentations. Then there is the James Rojas and John Kamp approach, which involves a kit of colors and materials, and a joyful process of hands-on, intuitive learning-by-doing. Dream Play Build is a must-read for anyone wanting to meaningfully draw people into the creation of their own environments—through dreaming it and making it, themselves."
— Frances Anderton, design and architecture journalist; former host, KCRW's podcast "DnA: Design and Architecture"