Build Beyond Zero: New Ideas for Carbon-Smart Architecture (Paperback)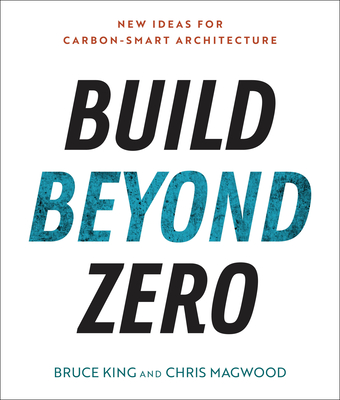 $45.00

Not Available In-Store - Usually Ships from Warehouse in 1-5 Days
Description
---
"Net Zero" has been an effective rallying cry for the green building movement, signaling a goal of having every building generate at least as much energy as it uses. Enormous strides have been made in improving the performance of every type of new building, and even more importantly, renovating the vast and energy-inefficient collection of existing buildings in every country. If we can get every building to net-zero energy use in the next few decades, it will be a huge success, but it will not be enough.  
 
In Build Beyond Zero, carbon pioneers Bruce King and Chris Magwood re-envision buildings as one of our most practical and affordable climate solutions instead of leading drivers of climate change. They provide a snapshot of a beginning and map towards a carbon-smart built environment that acts as a CO2 filter. Professional engineers, designers, and developers are invited to imagine the very real potential for our built environment to be a site of net carbon storage, a massive drawdown pool that could help to heal our climate.
 
The authors, with the help of other industry experts, show the importance of examining what components of an efficient building (from windows to solar photovoltaics) are made with, and how the supply chains deliver all those products and materials to a jobsite. Build Beyond Zero looks at the good and the bad of how we track carbon (Life Cycle Assessment), then takes a deep dive into materials (with a focus on steel and concrete) and biological architecture, and wraps up with education, policy and governance, circular economy, and where we go in the next three decades. 
 
In Build Beyond Zero, King and Magwood show how buildings are culprits but stand poised to act as climate healers. They offer an exciting vision of climate-friendly architecture, along with practical advice for professionals working to address the carbon footprint of our built environment.
About the Author
---
Bruce King has been a practicing structural engineer for forty years, designing buildings of every size and type around the world. He is the founder and director of the Ecological Building Network (EBNet) and author of the ASTM international building standard for earthen construction, The New Carbon Architecture, and three other books.
 
Chris Magwood has been designing and building carbon positive buildings for twenty-five years. Since 2011 he has been doing this work at Endeavour Centre – The Sustainable Building School where he currently leads the Builders for Climate Action project, designing tools and policies to support carbon-smart architecture. He is the author of seven books about sustainable building materials and techniques and is the editor of the Sustainable Building Essentials series.
 
Praise For…
---
"There is much to love in this book. It will give the general reader an understanding of the issues, but it will have many lightbulb moments for professionals and will give them a new language, and a way of explaining these issues. I and others have been trying to do this for decades, but none have been as clear, as easy to read and understand, and as useful as King and Magwood in Build Beyond Zero."
— Treehugger

"Build Beyond Zero is a comprehensive and clear overview of construction practices and their potential climate impact in the near future…. King and Magwood offer an essential manifesto for anyone involved in commissioning or carrying out construction or renovation, anyone involved in the production of building materials, anyone involved in the establishment or modification of building codes, anyone involved in construction education."
 
— Resilience

"Build Beyond Zero is a timely and deeply informative tour d'horizon of the ways to build structures of all kinds so they avoid or capture and store carbon emissions. Mixing humor and deep knowledge, King and Magwood sketch out a compelling story of how humans can transform their built environment. Specifically examining how we use wood, cement, plastics, and other materials, they show an innovative path forward to meet our most demanding climate goals. In the face of widespread inertia, this book strikes just the right tone of can-do optimism with a touch of history and philosophy. Down to earth and visionary."
— Jerry Brown, former Governor of California; Chair of the California-China Climate Institute at UC Berkeley

"Build Beyond Zero is a remarkably compelling, educational, and encouraging book that outlines specific and concrete actions the building industry can take to reduce its impact on climate change. Both approachable and deeply informative, this book is required reading for industry professionals."
— Stacy Smedley, Sustainability Professional, Expert and Speaker

"Wherever your influence along the value chain, wherever you find yourself along the optimism spectrum, Build Beyond Zero has something for you. You will never design or build a building in the same way again."
— Victoria Kate Burrows, Director, Advancing Net Zero, World Green Building Council

"Timing is everything and with Build Beyond Zero King and Magwood are releasing to the world a profound, yet very doable climate action plan for the building industry. They provide a smorgasbord of solutions available for use today to help move the industry from climate villain to climate hero."
— Kirsten Ritchie, Principal, Gensler