Miracle Country: A Memoir of a Family and a Landscape (Paperback)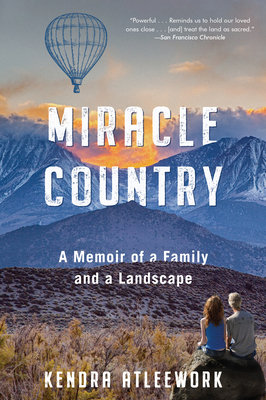 $16.95

Not Available In-Store - Usually Ships from Warehouse in 1-5 Days
August 2020 Indie Next List
---
"Miracle Country is one of those books that takes on the personality of the place in which it's set, and in the case of the Owens River Valley, that personality is starkly beautiful and full of rugged vitality. Atleework's unflinching combination of personal and natural exploration is the perfect complement to the backdrop of the High Sierra, and she somehow manages to encapsulate both the allure and the contemptuousness of the mountains and existence in general through her examination of her own life. Harsh and brutal, resplendent and inviting, this book makes the Sierra Nevada tangible in a way that only great writing can."
— David Nurick, Cellar Door Books, Riverside, CA
Description
---
WINNER OF THE SIGURD F. OLSON NATURE WRITING AWARD
WINNER OF THE WOMEN WRITING THE WEST WILLA LITERARY AWARD IN CREATIVE NONFICTION

"[A] shimmering memoir . . . A bittersweet tribute to home and family in breathtaking prose that will appeal to lovers of memoirs and history, as well as anyone who enjoys beautifully crafted writing." —Library Journal, starred review

Kendra Atleework grew up in the Owens Valley of the Eastern Sierra Nevada in California, where annual rainfall averages five inches and in drought years measures closer to zero.

Her parents taught their children to thrive in this beautiful but harsh landscape prone to wildfires, blizzards, and gale-force winds. Above all, the Atleework children were raised on unconditional love and delight in the natural world. But when Kendra's mother died when Kendra was just sixteen, her once-beloved desert world came to feel empty and hostile, as climate change, drought, and wildfires intensified. The Atleework family fell apart, even as her father tried to keep them together. Kendra escaped to Los Angeles, and then Minneapolis, land of tall trees, full lakes, water everywhere you look.

But after years of avoiding her hometown, she felt pulled back. Incorporating the fascinating history of the landscape and powerful nature writing, Miracle Country is a moving and unforgettable memoir of flight and return, emptiness and bounty, the realities of a harsh and changing climate, and the true meaning of home. For readers of Cheryl Strayed, Annie Dillard, and Rebecca Solnit, this is a breathtaking debut by a remarkable writer.
About the Author
---
Kendra Atleework received her MFA in creative writing from the University of Minnesota. An essay that formed the basis for a chapter of Miracle Country was selected for The Best American Essays 2015. She is the recipient of the Ellen Meloy Desert Writers Award and the AWP Intro Journals Project Award.
Praise For…
---
A Washington Independent Review of Books Favorite Book of 2020

"Truly something special and refreshing. Kendra Atleework's powerful debut is the rare trifecta that seamlessly blends personal narrative with historical nonfiction and highly charged, activist-style rhetoric with rarely a misstep or heavy hand . . . Whether you're in it for the emotional roller coaster or want an armchair view of an area of California not on your radar, Miracle Country works on multiple levels. It reminds us to hold our loved ones close, conserve our resources, treat the land as sacred and stop putting our collective heads in the sand when it comes to climate change."
—San Francisco Chronicle

"Drawing parallels between her upbringing and the region's history, [Atleework's] memoir celebrates her home and the region while lovingly portraying her family's eccentricities. Her ability to relay naturalistic majesty in exquisite detail is dynamic yet tender, resulting in captivating storytelling . . . A breathtaking environmental history. Atleework is a shrewd observer and her writing is a gratifying contribution to the desert-literature genre."
—PopMatters

"Atleework captures how the history of the landscape affects how people feel in the present in prose charged with emotion . . . Miracle Country is a beautiful read, Atleework's prose steeped in her passion for the region and her striking observations. Even more, though, the memoir is important because it reveals Atleework's deep understanding of the region, of a life defined by an absence, and she points us to the power in this understanding—it can be a tool to stay safe in a desert or on a cliff, a way to connect with other people, a call to counteract climate change, or, as in Atleework's case, a reason to return home."
—Ploughshares
 
"[A] shimmering memoir . . . A bittersweet tribute to home and family in breathtaking prose that will appeal to lovers of memoirs and history, as well as anyone who enjoys beautifully crafted writing."
—Library Journal, starred review

"[A] beautiful debut . . . Atleework's remarkable prose renders the ordinary wondrous and firmly puts this overlooked region of California onto the map."
—Publishers Weekly, starred review

"Atleework pays tribute to the drought-ridden California desert of her childhood in this gimlet-eyed memoir . . . Nature lovers will immerse themselves in Atleework's vibrant prose and meditative musings."
—Booklist

"Can a book be both radiant with light and shadowy as midnight? Miracle Country can. I felt the thrill I once knew reading Annie Dillard for the first time. Kendra Atleework can really write. She flies with burning wings."
—Luis Alberto Urrea, author of The House of Broken Angels

"Kendra Atleework has written the most beautiful book about California I ever have read. The author locates the mystery and beauty of her life in the small town of Bishop, on the eastern slope of the Sierra, decades after Los Angeles has stolen the water.  Her poet's prose, on every page, honors the dry land and breathes Nature to life."
—Richard Rodriguez, author of Darling: A Spiritual Autobiography

"Miracle Country is truly some kind of miracle, combining a moving family story with deft, deeply researched history. Written from the crucible of California's water wars, combined with a family story of love and loss in the high desert Eastern Sierra Nevada, Kendra Atleework's book joins the great American accounts of the West, a step beyond Joan Didion, moving from a beloved geography into a jeopardized future.  Kendra Atleework is that rare writer—capable of heart-stopping memoir while performing a work of keen observation and serious history. A work of stunning acuity and candor, essential reading, already a classic narrative."
—Patricia Hampl, author of The Art of the Wasted Day
 
"A soaring homage to California and to the sparsely populated and drought-prone Eastern Sierra, where the author grew up. Blending family memoir and environmental history, Kendra Atleework conveys a fundamental truth: the places in which we live, live on—sometimes painfully—in us. This is a powerful, beautiful, and urgently important book."
—Julie Schumacher, author of Dear Committee Members and The Shakespeare Requirement 

"This eloquent narrative is both a natural history of the author's home place, a seemingly arid region, and a loving portrait of an extraordinary family. Kendra Atleework has an uncanny wisdom and a deep sense of people and their origins, and she writes like an angel."
—Charles Baxter, author of There's Something I Want You to Do