Fatty Fatty Boom Boom: A Memoir of Food, Fat, and Family (Paperback)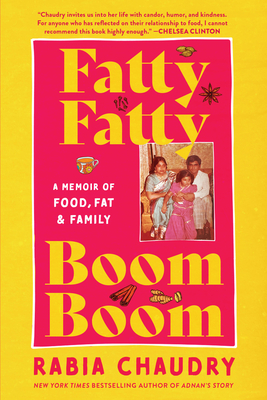 Description
---
"A delicious and mouthwatering book about food and family, the complicated love for both, and how that shapes us into who we are . . . I absolutely loved it!" —Valerie Bertinelli

"My entire life I have been less fat and more fat, but never not fat," writes Rabia Chaudry, who was raised with a lot of love. And that love looked like food. Delicious Pakistani dishes—fresh roti, chaat, pakoras, and shorba—and also Pizza Hut, Dairy Queen, and an abundance of American processed foods, as her family discovered its adopted country through its (fast) food. In Fatty Fatty Boom Boom, Chaudry chronicles the dozens of times she tried and failed to achieve what she was told was her ideal weight. The truth is, she always loved food too much to hold a grudge against it.

This memoir is at once an ode to Pakistani cuisine, including Chaudry's favorite recipes; a love letter to her Muslim family, both here and in Lahore; and a courageously honest portrait of a woman making peace with a body that gets the job done but refuses to meet the expectations of others.
 
About the Author
---
Rabia Chaudry is an attorney, advocate, podcaster, and executive producer of the four-part HBO documentary, The Case Against Adnan Syed, which was based on her New York Times bestselling book, Adnan's Story. Chaudry is also co-producer and co-host of three podcasts, Undisclosed (360 million downloads), The 45th (four million downloads) and the new The Hidden Djinn. A 2021 Aspen Institute/ADL Civil Society Fellow and a 2016 Aspen Ideas Scholar, she serves on the Vanguard Board at the Aspen Institute. She is a Fellow of the Truman National Security Project, a Fellow of the American Muslim Civic Leadership Institute, a Fellow of the Shalom Hartman Institute, and a founding board member of the Inter-Jewish Muslim Alliance and the Muslim Jewish Advisory Council, both of which focus on building Muslim-Jewish coalitions around pressing policy issues and educating across communities to break barriers. 
 
Praise For…
---
"Yes, Fatty Fatty Boom Boom is a book about food and Rabia's relationship to food, how that relationship influenced her life and how she ultimately, as she says, becomes friends with her body. It's also a profound act of generosity as Rabia invites us into her life with candor, humor, and kindness, for herself, her family and anyone who has reflected on their relationship to food. Not incidentally, it's a terrific read and one you can appropriately plow through or savor. I cannot recommend Fatty Fatty Boom Boom highly enough. I can't wait for my friends to read Rabia's story, for my kids to try Rabia's recipes and for the world to know more about this remarkable woman."—Chelsea Clinton

"A delicious and mouthwatering book about food and family, the complicated love for both, and how that shapes us into who we are. It's such a relief to not treat food as the enemy any longer and start to learn how to love and nourish the body I have today. I absolutely loved it!"—Valerie Bertinelli

"Beautifully weaving together stories of food, family, and self-discovery, Rabia Chaudry's memoir Fatty Fatty Boom Boom is complex, rich, and revelatory. I was deeply moved by her vulnerability, delighted by her self-deprecating humor, and awe-struck by her honesty. Chaudry sets a grand table before us and invites us to join her as she presents readers with her struggles, triumphs, and insights as a young girl in Pakistan, an awkward middle schooler in Maryland, and a young wife, advocate, and activist. Fatty Fatty Boom Boom is surprising, fiery, and heart-felt. Chaudry's most important recipe contains the ingredients for loving and honoring who we were, who we are, and who we aspire to be." 
 —Phuc Tran, author of Sigh, Gone: A Misfit's Memoir of Great Books, Punk Rock, and the Fight to Fit In

"Engrossing…Chaudry refreshingly eschews conventional narratives about weight loss, as well as fat acceptance…Victory is sweet and savory in this ebullient tale of self-acceptance."—Publishers Weekly (starred review)

"Chaudry eloquently portrays the role of food in love and friendship. At the same time, she doesn't flinch from reporting the humiliations heaped on the overweight at every turn... The literary equivalent of chaat masala fries: spicy, heady, sour, and uniquely delicious."
 —Kirkus (starred review)

"Chaudry is totally engaging, a perfect host. And after her descriptions of food, readers will be very happy to see recipes included at the end. Utterly delicious!"
 —Booklist (starred)

"…touchingly warm and intimate… Chaudry is an uplifting storyteller and her humor-laden anecdotes balance the underlying gravity of her story with grace and skill. A Pakistani American lawyer struggling with her weight chronicles with humor and sensitivity her path toward inner contentment and shares recipes for chai, ghee and the Pakistani dishes she loves."—Shelf Awareness

"Rabia Chaudry has given us the next chapter in the story of how food shapes self and how self shapes food. Here is an American, a South Asian woman writing at the intersection of food, tradition, gender, the body and pressures without and the journey within. This is an important and savory work."—Michael W. Twitty, James Beard Award-winning author of The Cooking Gene

"A delectable memoir that reads with the intensity of a novel. Devour it all at once, or savor it slowly—there's no wrong way to enjoy this funny, heart-wrenching, and brutally honest journey of food, family, and learning to love yourself."—Geraldine DeRuiter, founder of Everywherist.com and author of All Over the Place

"This unflinching and often humorous memoir of a Pakistani girl who struggles with her weight and also her family and culture's reaction to it, shows us Rabia Chaudry's resilience while highlighting her determination to celebrate the foods she loves. I was rooting for her as she learned to control food instead of food controlling her. The wonderful Pakistani recipes included will surprise anyone who thinks that Indian and Pakistani food are the same."—Tung Nguyen, author of Mango and Peppercorns

"Those who know Chaudry from the podcast Serial may be surprised to read this bighearted, hilarious, and brutally honest journey told with candor, charm, and wit about learning how to love yourself and your body unapologetically while navigating a roller-coaster of a life populated with eccentric and lovable Pakistani family members, delicious food recipes, awkward childhood crushes, failed diets, and Husky pants. I laughed at characters and scenes that seemed lifted from my own Pakistani home and winced at the colorism and fat-shaming that is often so prevalent but unchallenged in our communities. The big-hearted book takes on all of it with an invitation for all of us to be better, while enjoying a glorious, fried samosa along the way."—Wajahat Ali, author of Go Back to Where You Came From: And Other Helpful Recommendations on Becoming American