Psychedelics and Psychotherapy: The Healing Potential of Expanded States (Paperback)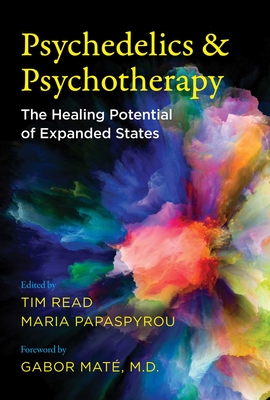 Description
---
An exploration of the latest developments from the flourishing field of modern psychedelic psychotherapy

• Examines the therapeutic potential of expanded states, underground psychedelic psychotherapy, harm reduction, new approaches for healing individual and collective trauma, and training considerations

• Addresses challenging psychedelic experiences, spiritual emergencies, and the central importance of the therapeutic relationship

• Details the use of cannabis as a psychedelic tool, spiritual exploration with LSD, micro-dosing with Iboga, and MDMA-assisted psychotherapy for PTSD

Exploring the latest developments in the flourishing field of modern psychedelic psycho-therapy, this book shares practical experiences and insights from both elders and newer research voices in the psychedelic research and clinical communities.

The contributors examine new findings on safe and skillful work with psychedelic and expanded states for therapeutic, personal, and spiritual growth. They explain the dual process of opening and healing. They explore new approaches for individual inner work as well as for the healing of ancestral and collective trauma. They examine the power of expanded states for reparative attachment work and offer insights on the integration process through the lens of Holotropic Breathwork. The contributors also examine the use of cannabis as a psychedelic tool, spiritual exploration with LSD, microdosing with Iboga, treating depression with psilocybin, and MDMA-assisted psychotherapy for PTSD.

Revealing diverse ways of working with psychedelics in terms of set, setting, and type of substance, the book concludes with discussions of ethics and professional development for those working in the field as well as explores considerations for training the next generation of psychedelic therapists.
About the Author
---
Tim Read, M.D., is a psychiatrist and psychotherapist, with degrees in neuroscience and medicine. After heading the services for psychiatric emergencies and crisis intervention at the Royal London Hospital for 20 years, he is now involved in clinical research at King's College and Imperial College, London University, on the therapeutic use of psychedelics. He has completed trainings in psychoanalytic psychotherapy and transpersonal psychology with Stanislav Grof and is a certified facilitator of Holotropic Breathwork. The author of Walking Shadows and coauthor of Breaking Open, he lives in London.

Maria Papaspyrou, MSc, is an integrative psychotherapist, supervisor, and family constellations facilitator. She has given talks and published articles on the sacramental and healing properties of entheogens, supporting their re-introduction in psychotherapy. She is co-director of the Institute of Psychedelic Therapy in the UK. She lives in Brighton, England.
Praise For…
---
"Training compassionate and effective therapists is the key to scaling psychedelic-assisted therapy. Psychedelics and Psychotherapy will contribute to the training of tens of thousands of therapists who will be able to treat millions of people."
— Rick Doblin, Ph.D., executive director of MAPS

"There is a revolution happening in mental health. Read and Papaspyrou have gathered together the world's experts on various medication-assisted psychotherapies to explain how these molecules facilitate transformational experiences."
— Julie Holland, M.D., author of Good Chemistry

"A remarkable collection of sophisticated psychedelic therapists and integration specialists sharing new methods, new models, and theoretical underpinnings for both. What makes this volume invaluable is the wide range of solutions that the writers have come up with for helping and healing. There is a richness of ideas and case histories here, and no matter what your orientation is, you're going to learn many other ways your own work might go."
— James Fadiman, Ph.D., microdose researcher, author of The Psychedelic Explorer's Guide

"This authoritatively written and beautifully illustrated book explores perfectly the complexities and benefits of interweaving these disparate subjects into a platform of hope for our patients with unremitting mental disorders. A highly recommended read for practitioners, patients, and anyone with a keen eye on the contemporary development of psychedelic culture and medicine."
— Ben Sessa, MBBS, MRCPsych, chief medical officer at Awakn Life Sciences, Inc., and psychedelic thera

"This new book provides a rich education for those seeking wisdom about the deepest varieties of psychotherapy."
— Robin Carhart-Harris, Ph.D., head of Centre for Psychedelic Research at Imperial College London

"As psychedelic drugs reintegrate themselves back into our lives how are we, in turn, to reintegrate them? This timely book will serve as a roadmap to those who walk this path, bringing together indigenous cultural knowledge and modern psychotherapeutic thinking to illustrate an ancient process of deepening inner awareness that so many feel has such contemporary potential to heal."
— James Rucker, Ph.D., honorary consultant psychiatrist at the South London

"This edited collection of articles by seasoned experts in psychedelic- assisted therapy fills a critical gap. This book covers what every therapist needs to know in order to be competent in helping clients integrate their psychedelic experiences."
— David Lukoff, Ph.D., professor of psychology at Sofia University

"A valuable collection of experiential discoveries and research findings. A guide for those who would fathom how the competent use of psychedelics may facilitate healing and illumine the dynamics and mysteries of human consciousness."
— William A. Richards, Ph.D., author of Sacred Knowledge

"This groundbreaking volume is essential reading for all practitioners in the healing professions, especially those whose primary focus remains the biological facets of mental health. A paradigm shift--toward a deeper model of the human being recovering the soul, the feminine, and our need for a profound sense of social belonging and embeddedness in nature--is absolutely essential. Our multifaceted crisis can only be resolved through the kind of integrative approaches advanced here: those that start from the inner dimension and its corresponding outer expressions."
— David Lorimer, MA, PGCE, program director at the Scientific and Medical Network

"I could not be more appreciative for the publication of Psychedelics and Psychotherapy. It should be essential reading for anyone interested in maximizing the healing potential of expanded states of consciousness and is a MUST for anyone considering the path of becoming a psychedelic therapist, sitter, or guide. These are the wise voices of dedicated and well-seasoned practitioners."
— voices of dedicated and well-seasoned practitioners." Diane Haug, MA, LPCC, senior staff membe

"An important book that unites the current vogue for medical application of psychedelics with the deeper spiritual understanding of humanity as interconnected, which is denied by the illness model of mental well-being. Psychedelics are identified as a means to face and heal the inner pain behind mental breakdown, and the theme is illustrated from a variety of therapeutic perspectives--using multiple ways of exploring expanded consciousness--the whole enlivened by the inclusion of artwork arising from the process."
— Isabel Clarke, consultant clinical psychologist, and author of Madness, Mystery and the Survival of

"This rich, brilliant anthology is a must-read resource for anyone interested in psychedelic-assisted psychotherapy, covering areas such as preparation and integration, the use of evocative music, mandala drawing, bodywork, and archetypal astrology."
— Renn Butler, author of Pathways to Wholeness and The Archetypal Universe

"Read and Papaspyrou have years of experience in the field of healing with expanded states of consciousness and, with keen observation of what is needed as psychedelics enter the mainstream, have chosen wise authors and essential topics to include in this book. Psychedelics and Psychotherapy reflects the multi-dimensional experience of both client and therapist in psychedelic therapy and the subtle issues that arise. This book is essential reading for those just joining this important healing work. Veterans in the field will appreciate the skillful articulation of the differences between psychedelic therapy and ordinary therapy, especially regarding training, ethical awareness, presence, and supervision in supporting the inner healing intelligence of clients in the therapeutic alliance."
— Kylea Taylor, LMFT, author of The Ethics of Caring

"A wonderful mind-expanding book that has renewed my compassion, enthusiasm, and curiosity for the therapeutic experience. Authors with deep experience write beautifully about the transformative nature and process of psychedelic therapy."
— Rachel Gibbons, psychoanalyst, group analyst, consultant psychiatrist, and organizational consultant

"An important, timely, and rich collection that should interest anyone with a serious interest in psychedelics."
— Jeremy Narby, anthropologist and author of The Cosmic Serpent

"Research and reports of users in this field are gaining increasing awareness, yet the voice of those therapists who offered therapy is seldom heard. A rich, thorough resource of practitioners awaits the reader; collectively, they represent hundreds of years of experience in this growing field."
— Manuel Aicher, psychotherapist