Shamanic Dreaming: Connecting with Your Inner Visionary (Paperback)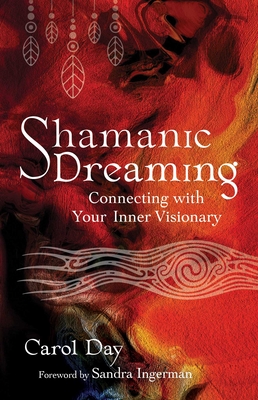 Description
---
A journey through the three pathways of time--present, past, and future--to open yourself to shamanic visions

• Presents shamanic tools to help you prepare to receive visions, release the burdens of the past, and bring clarity to your visions of the future

• Shares Earth Whispering practices to expand the senses, set intentions, and connect deeply with intuition and spirit helpers

• Offers advice on working with guides and soul protectors as well as the different realms a guide might emerge from

Visionaries dream the future into life, and throughout the ages shamans have served this role within their communities. Yet, how does one as an individual open to visions and allow the messages we need to hear to come through? Enter the stage of Shamanic Dreaming for a playful, evocative rendezvous with circle consciousness.

In this shamanic guide, visionary Carol Day shows how to access our creative potential to shape a strong vision for ourselves and others, connecting intimately to the world around with the support of seen and unseen realms. Earth whispering practices prepare for shamanic visioning by expanding the senses; we open up to different dimensions and initiate a conscious relationship with nature, myth, and archetype through the creativity wheel.

A time travel adventure through present, past, and future lands connects us with the ancestors and the future ones. Working with nature portals on the land and attuning with nature and animal guides, we visit the past to heal our ancestral lines. Visiting the future ones, we understand the importance of what we hold today in creating the environments and conditions of the future. Closing the circle to the present, our longing finds us ready to bring clarity to our own visions. Ingeniously crafted, Shamanic Dreaming provides us with all the practical skills needed for insightful visionary questing.
About the Author
---
Carol Day is a visionary teacher, psychotherapist, artist, and director of Creative Earth Ensemble in Scotland. Also the founder of the systemic story therapy, she runs a private practice and is involved in projects centered on creating community and connecting people back to the land. Carol lives in Glasgow, Scotland.

Sandra Ingerman, M.A., is a renowned shamanic teacher who gives workshops internationally on shamanic journeying, healing, and soul retrieval. An award-winning author of 10 books, including Awakening to the Spirit World and Soul Retrieval, she lives in Santa Fe, New Mexico.
Praise For…
---
"Carol never fails to delight with her creative and visionary approach. This book had me smiling all the way through as she expertly guides us along a fun, empowering, and expansive journey toward wholeness and truth within a carefully crafted structure. Her writing and encouragement reflects the depth of her experience, respect, and love for both the mythical and the human. Carol is listening to a wider calling, and with this book as our guide we can't help but do the same."
— FAY JOHNSTONE, shamanic herbalist, Reiki teacher, and author of Plant Spirit Reiki and Plants That S

"What do unborn babies dream, floating in their private (yet cosmic) ocean in the womb? Is our umbilical cord a bridge for dreams as well as nourishment? Does our dreaming add to the dreaming of the Earth long before we even see daylight? This new book by Carol Day will help you open doors to the visionary realm, as is your birthright. It will make you an intentional Earth Whisperer, using dreaming as a power tool. You will learn how to continuously place yourself and your relations (plant, animal, mineral, ancestral) in sacred wholeness—the same divine wholeness that dreamed you into being, long before you were even conceived! Treat yourself to this most magical book to become a world-class dreamer!"
— IMELDA ALMQVIST, painter, forest witch, and author of North Sea Water in My Veins and Medicine of th

"Shamanic Dreaming is full of practical wisdom to find your sense of belonging through time and your continuing role in the unfolding story of the earth. It is full of fun and imaginative ways to connect deeply with yourself and to co-create a better understanding of your calling and the vision for the earth. All this is guided with the support of deep listening to nature, spirit, and the mythical through all dimensions of time and space. This book will change your life--as it did mine! It will give you a sense of living in deep harmony with yourself and the earth in your own unique way. The deep truth and authenticity of this book is so needed for the creation of a new vision for connected earth community."
— GILLIAN DUNCAN, mindfulness coach and teacher and founder of the Moment Is Now

"The book allows you a hands-on approach and asks you to attune yourself to everything all around you. There are tasks for you to complete throughout, all of which can bring a deeper understanding of your mindset and learning to be present.I recommend quickly browsing the book before you begin, as some tasks require items you might not just have lain around, such as a shamanic drum. If you've already got one, great. But just check beforehand, because getting all ready for one of the tasks only to find you're missing the key ingredient can be a huge disappointment."
— Kate Hames, Musing Mystical