Ten Planets: Stories (Paperback)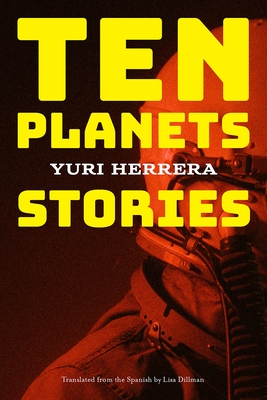 Staff Reviews
---
This tiny book you are staring at packs a punch like no other. Yuri Herrera's latest collection of short stories is here to show you that he only gets better with each new project. Herrera utilizes speculative fiction to show you the messy humanity that the stranger in a strange land-trope embodies. Each story will make you feel as if you are floating through space rediscovering what it is to feel the full spectrum of human emotion as you relate to sentient bacteria, an anthropomorphic rat, ghostbusters, and various existential beings. "Ten Planets" is a necessary read for anyone who longs for experimental literature and weirdness that drags you into deep philosophical thought.
— From
Quinn's Picks
Description
---
A collection of fanciful, philosophical science fictions by "one of Mexico's finest novelists" (Vulture).

The characters that populate Yuri Herrera's surprising new story collection inhabit imagined futures that reveal the strangeness and instability of the present. Drawing on science fiction, noir, and the philosophical parables of Jorge Luis Borges's Fictions and Italo Calvino's Cosmicomics, these very short stories are an inspired extension of this significant writer's work.

In Ten Planets, objects can be sentient and might rebel against the unhappy human family to which they are attached. A detective of sorts finds clues to buried secrets by studying the noses of his clients, which he insists are covert maps. A meager bacterium in a human intestine gains consciousness when a psychotropic drug is ingested. Monsters and aliens abound, but in the fiction of Yuri Herrera, knowing who is the monster and who the alien is a tricky proposition.

In Ten Planets, Herrera's consistent themes—the mutability of borders, the wounds and legacy of colonial violence, and a deep love of storytelling in all its forms—are explored with evident brilliance and delight.
About the Author
---
Lisa Dillman teaches in the Department of Spanish and Portuguese at Emory University and has translated numerous works of fiction by Argentine, Mexican, Catalan, and Spanish writers. She lives in Decatur, Georgia.
Praise For…
---
"This speculative collection draws inspiration from Melville, Jorge Luis Borges, Philip K. Dick and others to produce contemplative, emotive and richly imagined stories."—The New York Times Book Review

"[A] highly original set of voyages to imaginary worlds that shed unexpected light on our own."—Liz Braswell, The Wall Street Journal

"Reading Ten Planets . . . requires not only suspension of disbelief but surrender of control. Both are challenging; both are worth it. Nobody writes like Yuri Herrera, and it would be a shame not to travel with him as far as his imagination can go."—Lily Meyer, NPR.org

"Herrera's writing moves through different registers with ease, some familiar, some uncanny . . . all of it unlikely and beautiful. In Ten Planets, Herrera shifts from the fantastical (monsters and aliens) to the eerily materialist (a bacterium achieves sentience) like a boy flipping through the pages of a beloved comic book: with delight and conviction."—Jonny Diamond, Literary Hub

"The emotional heft, combined with Herrera's commitment to genre, yield satisfying results."—Publishers Weekly

"Startling concepts another writer might take hundreds of pages to explore are distilled into perfect miniatures. It's tempting to gulp them down at once, but such rich fare is best taken slowly, allowed to digest."—Lisa Tuttle, The Guardian (UK)

In the vibrant imagination of Yuri Herrera . . . abandoning the rules of our world allows for a speculative fiction that unites fantasy with lucid reflections on contemporary culture, experimenting with the bounds of genre to create something uniquely Herreran."—Georgina Fooks, Asymptote

"[Ten Planets] is exceedingly rich in ideas, insights, and provocations. . . . No matter how badly I (or you) might want to find them, there are no fixed answers or messages or meanings in Ten Planets. That's what makes looking for them so fun. So, go ahead. Explore. Just make sure that you're willing to meet a dragon in the mirror."—Andres Vaamonde, Washington Square Review

"The allure of Herrera's puzzles lies exactly in how clear and cryptic they are at once. . . . Herrera's fiction is most satisfying when it is most frustrating. It is the more opaque stories in the collection that I find myself pulled back toward, revisiting them in a spirit of curiosity rather than confusion. Looking not so much to solve their mysteries but to find new angles from which to contemplate them."—Mattia Ravasi, Los Angeles Review of Books

"Ten Planets is exuberantly inventive and darkly humorous. Yuri Herrera has a gift for concealing entire worlds in small packages. Invariably the strange places in these jack-in-the-box fictions, with their peculiar customs and weird creatures, turn out to be familiar, not alien societies but our own, not distant planets but the house across the street. Monstrous and magical by turns, and very often both, Herrera's stories are irresistible."—Ivan Vladislavic

"Brilliant, ecstatic, and playful, Ten Planets is the work of one of the most original and prodigiously gifted writers at work today. The grammar of a nose, a skeleton in a shoebox, a consciousness acquiring bacterium, and a sentient house – the infinite worlds of Ten Planets are further proof that Herrera is a writer of boundless talent."—Katie Kitamura, author of Intimacies

"Utterly brilliant, hilarious, and original, these strange jewels. Anyone whose hand alights on this book and does not open it is missing out on the best work of our time."—Deb Olin Unferth, author of Barn 8

"Herrera invokes aliens and monsters throughout space and time, in galaxies near and far. Like Marco Polo, the author brings back his findings to us, asking that we listen with ears wide open and accept the prospect of worlds beyond our reckoning. Herrera writes to this climax, then beyond: to the chill of familiarity that passes over us when we realize that the one telling these tales has never left the Earth."—Elizabeth Gonzalez James, Southwest Review

"Each of Herrera's stories bewilders, but always in a way that generates connections between seemingly disparate ideas. This collection is powerful and imaginative."—Superstition Review

"A conceptually heavy, emotionally empathetic accounting of the most alien of conditions."—Kirkus Reviews