Epic Journey: The Life and Times of Wasyl Kushnir (Paperback)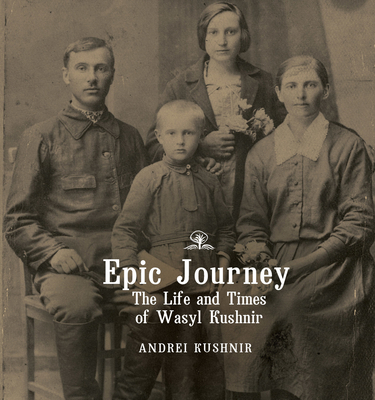 $32.95

Not Available In-Store - Usually Ships from Warehouse in 1-5 Days
Description
---
Wasyl Andreievych Kushnir was born in Ukraine in 1923, and was witness to the tragedies and horrors of the early years of collectivization under the Soviet regime in his homeland. His father fought in the Ukrainian National Army against the Russian Bolshevik invasion and ultimate occupation of Ukraine, and his grandfather was murdered by Chekist Bolsheviks. Early in Wasyl's life, his family's home and all personal possessions were confiscated by the communist authorities, and both parents were exiled, his father to Siberia, and mother to a prison in Mariopol. His uncle Danylo was also arrested and exiled to forced labor in Siberia, and then to Komi SSR. During this period, Ukraine experienced genocidal famine, and Wasyl himself suffered hunger during the Ukrainian Holodomor, in which millions perished. Upon the escape of his parents from prison camps, the family reunited, only to be torn apart again during World War II when Wasyl was taken by the Nazis as a slave laborer to Germany. At the war's conclusion, Wasyl drove trucks for the American Army in Germany, and married his wife, Maria, also a forced labor survivor, who bore him two sons. The family ultimately emigrated to Mississippi, and then Chicago, Illinois where two other children were born. Wasyl pursued the American dream, sought an education, and was ultimately successful in business, retiring in Florida where he spent his last years.
The story of Wasyl's life, which extended almost a century, is told by his son Andrei in his father's voice. Andrei combined his father's memories, written longhand in Ukrainian, with translated documents and additional narrative. This non-fiction work attests to the struggle for survival under the harsh Soviet regime in Ukraine, the courage and persistence of one remarkable man, the importance of family, and the strength and endurance of the human spirit.
About the Author
---
Andrei Kushnir is an American artist/author of Ukrainian-American descent. He is the author of Oh, Shenandoah, Paintings of the Historic Valley and River; Painted History, and other collections of his artistic works. He is a graduate of the University of Illinois (BA), Georgetown University (MA) and Howard University School of Law (JD), and served as a civilian attorney with the Federal Aviation Administration, and U.S. Department of the Navy.