Stink y el Gran Expreso del Cobaya/ Stink and The Great Guinea Pig Express (Paperback)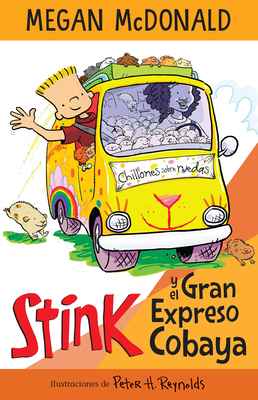 $10.95

Special Order - Subject to Availability
Other Books in Series
This is book number 4 in the Stink series.
Description
---
¡Cuidado, 101 bolitas de pelo sobre ruedas! Stink y sus amigos persiguen y rescatan a tres hermosos cobayas y al llevarlos a la veterinaria descubren que estos animalitos han infestado el lugar y que necesitan hogar urgentemente.
 
La señorita Trino evita que los cobayas o conejillos de Indias sean utilizados en pruebas de laboratorio y se los lleva consigo.

La aventura está por empezar, ya que Stink y sus amigos idearán varias estrategias para darlos en adopción, y la brigada móvil tendrá que arrancar pronto antes que los pequeños traviesos acaben con todo a su paso.

«La idea de que Stink tuviera su propia serie surgió de los lectores de Judy Moody. Los chicos que estaban leyendo este libro amaban a Stink y pidieron una y otra vez que si él podía protagonizar sus propias aventuras. Tiempo después nació la serie del célebre chico de tenis malolientes y ahora se ha embarcado en una aventura con el rompemandíbulas y con sus tenis superapestosos, por no hablar del rescate de 101 cobayas y salvar al planeta Plutón.» —Entrevista a Megan McDonald por Elizabeth Kennedy en About.com/Children's Book

Stink es uno de los personajes favoritos de los niños, y su serie promete muchas otras aventuras. La autora ha recibo varios premios y reconocimientos por otras novelas y por su serie infantil Judy Moody, el cual se han traducido a veinte idiomas.

ENGLISH DESCRIPTION

When three guinea pigs from the local pet shop make a great escape, Stink Moody and his friends Webster and Sophie fly into action to find the lovely fur balls. Then, The Fantastic Three hit the road in a crazy quest to find good homes for 101 squealing, whistling, chirping, wiggly piggies. Let the Great Guinea Pig Giveaway begin!
About the Author
---
Megan McDonald es autora de la popular serie de Judy Moody y Stink. Ha escrito muchos otros libros para niños, entre ellos la serie de cuentos de Hormiga y Abeja, la serie Club de Hermanas y varios álbumes ilustrados. Antes de dedicarse a tiempo completo a la escritura, Megan McDonald trabajó como bibliotecaria, librera y actriz de recreaciones históricas. Vive en el Norte de California con su esposo, Richard Haynes, que también es escritor.
Praise For…
---
«Espero que McDonald escriba muchas más aventuras de Stink. Es un personaje encantador.» —Reniee Kirchner, KidsReads.com

«Es un libro muy emocionante por los viajes y las aventuras. Las imágenes explican mucho de lo que está sucediendo en la historia. Leeré más de esta serie.» —Fill Your Bookshelf