Star Signs Embroidery: Zodiac Patterns to Customize and Create (Embroidery Craft) (Mixed media product)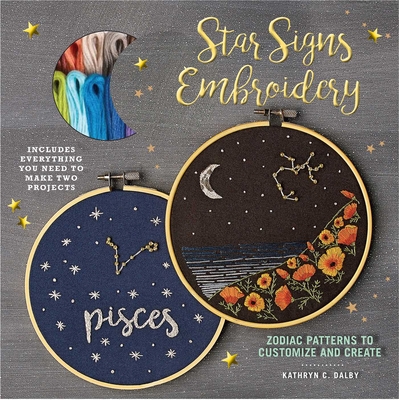 Description
---
Combine zodiac signs with beautiful patterns to create embroidery artwork that people will cherish!

Create a beautiful piece of art to hang on a wall, or a personalized gift for a friend. The traditional art of embroidery is easy to learn with this fun kit. It includes everything you need for two projects: 10 skeins of embroidery floss, 2 needles, 2 pieces of fabric, a 6-inch embroidery hoop, 24 seed beads, and water-soluble transfers to put the patterns on practically anything you want to embellish! Mix and match zodiac signs and names with the design patterns to create something unique and special! The instruction book contains step-by-step directions and beautiful photos so you can create your own work of art that can be enjoyed for generations to come.
 
About the Author
---
Kathryn Chipinka Dalby is a self-taught embroidery artist, avid crafter, and lover of all things handmade. On a whim, she decided to teach herself to embroider by stitching more than twenty projects for her wedding, and she has not stopped stitching since. She fell in love with the craft and is known to bring a project with her everywhere she goes. Kathryn lives in sunny San Diego, California, with her husband, cat, and guinea pig.