Rumor of a Werewolf (Caden Chronicles #4) (Paperback)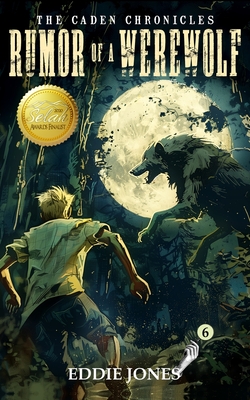 $8.99

Special Order - Subject to Availability
Other Books in Series
This is book number 4 in the Caden Chronicles series.
Description
---
Another attack during a full moon . . . A series of wolf prints along a creek bank . . . Is there a werewolf running loose in Sleepy Hollow?
★ Shortlisted as a Selah Winner for Middle Grade Fiction ★
Can a person be turned into a werewolf? Like most monster myths, Nick doubts that a man can become a wolf during a full moon, but becomes bothered when he hears this passage from his grandfather's Bible.
"Consider this account of King Nebuchadnezzar from the Book of Daniel," his grandfather says.
"Instantly his body became drenched with the dew of heaven until his hair grew like the feathers of an eagle and his nails like the claws of a bird. 'Let him live with the animals of the earth, ' God said, 'and be given the mind of an animal.'" (Daniel 4:33-34) - the Bible
With a news clipping in his lap, Nick wonders if this ancient curse has come back to haunt those living in Sleepy Hollow.
DAILY CRIER: Law enforcement officials claim a wolf or some other large animal killed the jogger under a bridge in Rockefeller State Park. Large misshapen paw prints were found around the body. There were also bite marks on her hands, and arms. Her death, occurring during a full moon, have led some to suggest that a werewolf may be running loose in Sleepy Hollow.
Certain there is no such creature, Nick digs into the case and uncovers hints that part-perhaps most-of the werewolf legend may be true. As the last full moon of the month rises over Sleepy Hollow, Nick is about to learn that some monsters are real-and the worst kind of monster is the one you never see coming.
Recent Reader Comments
"The story is fun, and likely if you pick a werewolf story occurring in Sleepy Hollow, that's what you're looking for. I pretty much read this in one sitting. The dialogue, often humorous, just flows." - Mike
"A murder, a mystery, a hairy monster as the suspect, combined with an amiable writing style make 'Rumor of a Werewolf' worth the read. Clues, evidence, a surprise or two-a stock formula for suspense and intrigue. References to sleuth icons of the past may encourage kids to do a little nostalgic investigating. Youngsters from intermediate grades up would enjoy this book, and so would oldsters of any age." - Ray
Parents can trust the Caden Chronicles. There is no sexual dialogue or situations, violence, or strong language, only positive moral values and a wee little bit of humor.: )