Luminous Darkness: An Engaged Buddhist Approach to Embracing the Unknown (Paperback)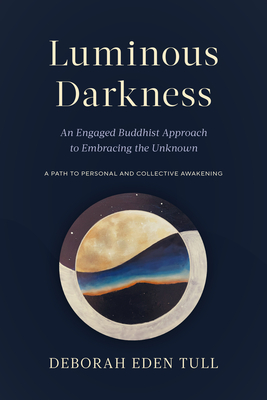 Description
---
A resonant call to explore the darkness in life, in nature, and in consciousness—including difficult emotions like uncertainty, grief, fear, and xenophobia—through teachings, embodied meditations, and mindful inquiry that provide us with a powerful path to healing.

Darkness is deeply misunderstood in today's world; yet it offers powerful medicine, serenity, strength, healing, and regeneration. All insight, vision, creativity, and revelation arise from darkness. It is through learning to stay present and meet the dark with curiosity rather than judgment that we connect to an unwavering light within. Welcoming darkness with curiosity, rather than fear or judgment, enables us to access our innate capacity for compassion and collective healing.

Dharma teacher, shamanic practitioner, and deep ecologist Deborah Eden Tull addresses the spiritual, ecological, psychological, and interpersonal ramifications of our bias towards light.

Tull explores the medicine of darkness for personal and collective healing, through topics such as:


Befriending the Night: The Radiant Teachings of Darkness
Honoring Our Pain for Our World
Seeing in the Dark: The Quiet Power of Receptivity
Dreams, Possibility, and Moral Imagination
Releasing Fear—Embracing Emergence

Tull shows us how the labeling of darkness as "negative" becomes a collective excuse to justify avoiding everything that makes us uncomfortable: racism, spiritual bypass, environmental destruction. We can only find the radical path to wholeness by learning to embrace the interplay of both darkness and light.
About the Author
---
DEBORAH EDEN TULL, founder of Mindful Living Revolution, is a Zen meditation and engaged dharma teacher, author, spiritual activist, deep ecologist, and sustainability educator. Eden spent seven years training as a Buddhist monk and her teachings bridge personal and collective awakening. Her work has been featured in The Los Angeles Times, Tricycle, The Shift Network, and The Ecologist. Eden also teaches The Work That Reconnects created by Joanna Macy, and for UCLA's Mindful Awareness Research Center. Eden offers retreats, trainings, and online courses internationally. She is the author of Relational Mindfulness and The Natural Kitchen.
Praise For…
---
"In this book, Deborah Eden Tull offers the strong medicine of darkness which helps us navigate the uncertainty of our times. The over-lighting of our planet in its urban and more populated areas rob people of access to their own hidden depths, so needed in these times of growing peril."—Joanna Macy, author of Active Hope
 
"A novel and inspiring exploration of darkness bringing grace and balance to the complexity of our time."—Ruth King, author of Mindful of Race
  
"Deborah Eden Tull skillfully illuminates the wonders of the dark, shedding light onto areas of life where even angels fear to tread. Artificial light is destroying us, but the real light in this book can save us. By obeying the natural curfew of the night, and exploring the darkest corners of our mind, we can tap into natural resources previously buried in broad daylight. This book is a trustworthy guide to the treasures tucked within each of us."—Andrew Holecek, author of Dreams of Light

"Luminous Darkness is a wise, beautiful, important book. Through personal story, deep dharma teachings and social commentary, Deborah Eden Tull reclaims the power of darkness and the divine feminine and reweaves the often-overlooked threads—of potent mystery, fierce compassion, receptivity and relationship, imagination, and emergence—into the cloth of spiritual life. This is essential reading for anyone seeking to heal the wounds of inner and outer divisiveness, and engage our wide, aching world with a radiant, tender heart."—Pamela Weiss, author of A Bigger Sky

"In Luminous Darkness, we are reminded to turn away from 'sun-lighting' our way through life—pretending that everything is bright and light (or that it should be)—and reminded instead to face the real, inevitable darkness in our lives with grace, presence, and 'fierce compassion.' Eden, having struggled with near-debilitating illness for almost a decade, writes from a place of honest, experiential knowledge. Darkness, this book teaches, can be our greatest teacher."—Misha Collins, actor, activist, and NYT bestselling author of Some Things I Can't Tell You: Poems  

"Luminous Darkness is an extraordinary and profoundly clear exploration of the greatest divine mystery of all: that luminous darkness in which as Rumi said, 'the lovers drown themselves.' Reading the book is itself an initiation and the rewards of the initiation are profounder strength, vaster awe, and ineradicable commitment to celebration and justice."—Andrew Harvey, author of The Hope

"From natural to social systems, Luminous Darkness illuminates with vivid imagery and sensory aliveness how reorienting and rebalancing ourselves inwardly is necessary to help heal our ailing cultures and this world."—Nina Simons, co-founder of Bioneers  
 
"In this moving spiritual memoir, Tull lifts up the role of darkness as teacher, healer, and guide, revealing spacious and emergent possibilities.  Each chapter offers mindful inquiry and experiential practice gateways to explore the potential in darkness to restore inner strength and wholeness.  Drawing on spiritual traditions from Zen to shamanism, Tull invites readers to engage the luminous capacities of darkness to counteract the overlighting of the planet and truly learn to see in the dark."—Stephanie Kaza, author of Green Buddhism

"Deborah Eden Tull is a transformative and visionary teacher, who gracefully and authentically embodies the art of leading in the dark. The radical and practical teachings in this timely book offer us night vision, a way to connect with and befriend the vast, healing power of darkness and the unknown, a power we must all learn to access and cultivate for a viable future to be possible. Read this book and you will be equipped to meet the uncertainty of these times with resilience and trust."—Kaira Jewel Lingo, author of We Were Made for These Times
 
"Luminous Darkness deepens my trust in Eden as a spiritual teacher, friend, and mystic in these times of climate breakdown. Please allow this book and the practices described to guide you in allowing your body and psyche to touch or even hibernate in places that have seemed dark, confusing, haunting, and uncertain. We cannot find our way out of the climate chaos without embracing physical, emotional, and spiritual endarkenment!"—Kritee Kanko, Ph.D., climate scientist, Zen priest, educator, and founder of Boundless in Motion

"In Luminous Darkness, Eden allows us to dive into our own darkness and embrace it with more confidence. And, like in the Tibetan dark retreat, as we learn to stay in the uncertainty of the darkness, we can see the light and trust it."—Alejandro Chaoul, author of Tibetan Yoga: Magical Movements of Body, Breath & Mind

"Eden invites us both poetically and practically into a velvety black intimacy with the power of darkness; whether in contemplating the infinity of outer space revealed in the night sky, or the infinity of inner space which is our own consciousness, we are led to our true home in both directions. Follow her words into the darkness of your own being, feel your way into the 'endarkenment' she so eloquently and potently evokes, and find new dimensions to your life and practice and understanding."—Martin Aylward, author of Awake Where You Are: The Art of Embodied Awareness

"In Luminous Darkness, we are reminded to turn away from 'sun-lighting' our way through life—pretending that everything is bright and light (or that it should be)—and reminded instead to face the real, inevitable darkness in our lives with grace, presence, and 'fierce compassion.' Eden, having struggled with near-debilitating illness for almost a decade, writes from a place of honest, experiential knowledge. Darkness, this book teaches, can be our greatest teacher."—Misha Collins, actor, activist, and NYT bestselling author of Some Things I Can't Tell You: Poems