The All-Consuming World (Hardcover)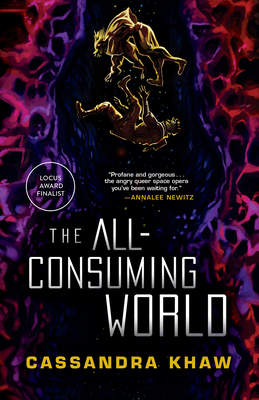 Description
---
In space, everything hungers.

Maya has died and been resurrected into countless cyborg bodies during her dangerous career with the Dirty Dozen, the most storied crew of criminals in the galaxy before their untimely and gruesome demise. Decades later, she and her team of broken, diminished outlaws must get back together to solve the mystery of their last, disastrous mission and to rescue a missing and much-changed comrade . . . but they're not the only ones in pursuit of the secret at the heart of the planet Dimmuborgir. 

The highly evolved AI of the galaxy will do whatever it takes to keep humanity from regaining control. As Maya and her comrades spiral closer to uncovering the AIs' vast conspiracy, this band of violent women—half-clone and half-machine—must battle both sapient ageships and their own traumas, in order to settle their affairs once and for all.
About the Author
---
Cassandra Khaw is an award-winning game writer whose fiction has been nominated for the Locus and British Fantasy Awards. Their short stories can be found in Fantasy & Science Fiction, Tor.com, Lightspeed, Uncanny Magazine, and The Year's Best Science Fiction and Fantasy.
Praise For…
---
★ "Khaw's first full-length novel is a sensory deluge of language and action that will sweep readers away in a flood of joyful, violent abandon." —Library Journal, starred review

"Khaw employs densely poetic prose to capture betrayal, rage, injury, and death . . . the fury and lyricism make for an adventure that doubles as a cathartic scream." —Publishers Weekly

"The All-Consuming World will consume your attention and linger in your thoughts, a very good ride and a remarkable what-if." —NPR

"An explosive, lyrical, foul-mouthed science fiction novel in which tech­nological advances fail to silence the most basic human emotions, The All-Consuming World . . . proves Khaw is exactly what readers of their shorter work have known for a long time: Khaw is one of the most exciting voices in contemporary genre fiction." —Locus

"The All-Consuming World is biopunk at its most visceral and languorous…. a pulsating spectacle of style." —Washington Independent Review of Books

"This book is a knife to the ribs: sharp, brutal, and absolutely designed to do exactly what it's doing. Brilliantly written and paced, I don't think there's another author working right now who could have pulled this off." —Seanan McGuire,  author of Every Heart a Doorway

"Cassandra Khaw wields words like a butcher's knife—with expert grace and blunt violence. The All-Consuming World is a lean story of traumatized near-immortal ex-mercenaries, ancient AI warships, and mind-bending biotech. It's relentless, profane, and weird—and I mean that in a good way."  —Fonda Lee, author of the Green Bone Saga

"The All-Consuming World is the angry queer space opera you've been waiting for. Khaw's style is as ferocious as their characters, and I love the rusty intimacy of the world they've built around the interconnected fates of flesh and machines." —Annalee Newitz, author of Autonomous

"The All-Consuming World has that frenetic, urgent energy that doesn't so much compel you to read further as it grabs you by the chin and drags you across the pages. Khaw has written a surly, sneering, zero-g, sharp-toothed poem of vulgarity and violence, and I am here for every electric word of it." —Chuck Wendig, author of Wanderers

"What a @#*% ride! Khaw has built a world as scarily beautiful and complex as their expansive imagination. Be warned though: once this book gets a hold of you, it won't let go until the mind-bending, explosive end!" —P. Djéli Clark, author of Ring Shout