Ivan and Phoebe (Hardcover)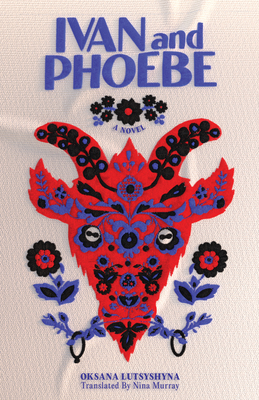 Description
---
Ivan and Phoebe spotlights the uproarious generation that led the Ukrainian independence movement of 1990; from subjugation to revolution to post-Soviet rule, it investigates the difficulties and absurdities of societal change and the families that change with it.
Ivan and Phoebe chronicles the lives of several young people involved in the Ukranian student protests of the 1990's, otherwise known as the Revolution On Granite or the "First Maidan." The story bounces between politically charged cities like Kyiv and Lviv, and protagonist Ivan's small, traditional hometown of Uzhgorod. As characters come to exercise their rights to free speech and protest, they must also re-evaluate the norms of marriage, family, and home life. While these initially appear to be spaces of peace and harmony, they are soon revealed to be hotbeds of conflict and multigenerational trauma.
Married couple Ivan and Phoebe grapple with questions about family, trauma, and independence. Although Ivan tells the story, Phoebe's voice rings through the text as she divulges her own traumas through poetic monologues. The two reflect on the traumatic aftermath of revolution: torture at the hands of the KGB and each other. While Ivan refuses to talk about his pain, Phoebe describes her past through poetic monologues. Lutsyshyna's poetic form allows her to experiment with characterization and genre, creating her own category. Through her characters' vivid voices, Lutsyshyna creates a his- and her-story of Ukraine: a panoramic view of post-Soviet society and family life through social, political, and economic crises.
About the Author
---
Oksana Lutsyshyna is a Ukrainian writer, translator, and poet, author of three novels, collection of short stories, and five books of poetry, the latest of them published in the English translation in 2019 (Persephone Blues, Arrowsmith). For her latest novel, Ivan and Phoebe, she was awarded Lviv City of Literature UNESCO Prize (2020) and the Taras Shevchenko National Award in fiction (2021). She holds a Ph.D. in Comparative Literature, and is currently an Assistant Professor of Instruction in Ukrainian Studies at the University of Texas at Austin, where she teaches the Ukrainian language and Eastern European literatures in translation.Nina Murray was born and raised in Lviv. She holds advanced degrees in Creative Writing (Poetry) and English Language and Literature. In 2011, Nina launched her career as a translator with The Museum of Abandoned Secrets by Oksana Zabuzhko. She has since translated other works by Oksana Zabuzhko, as well those by Lesia Ukrainka, Iryna Shuvalova, Alina Zubkovych, and other writers.