Ironhead, or, Once a Young Lady (Hardcover)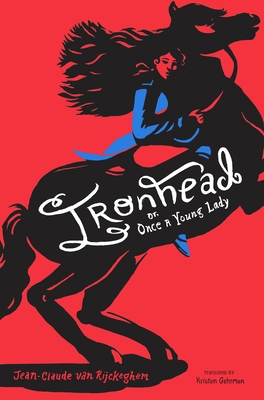 List Price: $18.99
Our Price: $15.19
(Save: $3.80 20%)
Description
---
A Junior Library Guild Selection

★ "Action-packed. Rich with detail. Rowdy and contemplative in turn, this celebration of historical gender nonconformity is as compelling as it is fun."—Publishers Weekly (starred)

★ "Stance is a delightfully chaotic protagonist, who is (scandalously) free with her affection and kisses and whose easy charm gets her out of more than little trouble. Thrilling, often hilarious, and sometimes tear-jerking, this romp of a story is reminiscent of classic adventure tales."—BCCB (starred)

"A perfect choice for fans of adventure tales with a prominent feminist streak."—Booklist

Eighteen-year-old Constance is not interested in marriage or in being a "young lady." But for a young woman coming of age in the early 1800s, that's just about all that's available to her. When her parents arrange her a marriage with a man more than twice her age, she's powerless to resist. Stance couldn't possibly find her newfound husband less appealing, but what can she do?

Here's what:

Four months into the marriage, she can slip out of their bed in the middle of the night, and she can put on his clothes. She can look in the mirror and like what she sees. She can sneak out of the house before dawn and visit the baker's scrawny son, who has just been drafted into the army, and offer to take his place. Vive l'Empereur!

Hot on Stance's tail all the while is her younger brother Pieter, determined to bring Stance back home to Ghent where she belongs. (The battlefield is no place for a young lady, after all.)

Ironhead, or, Once A Young Lady is the riotous and powerful story of a fierce renegade, and the silly men who try to bring her down.
About the Author
---
Jean-Claude van Rijckeghem is a Belgian writer and producer. He has a master's degree in languages. He has written or co-written screenplays for fifteen feature films in Flanders and the Netherlands including Cannes Critics' Week screenplay award winner Moscow, Belgium (2008). Jean-Claude is the co-author of several critically acclaimed and widely translated Young Adult novels, including Galgenmeid and A Sword in Her Hand.

Originally from Charleston, SC, Kristen Gehrman earned her Master's in Language Science with a specialization in Literary Translation from the University of Lausanne, Switzerland. She now lives in The Hague, The Netherlands, where she works as a literary translator and teaches university-level courses in creative translation.
Praise For…
---
"Rollicking adventure reigns in this fast-paced, humor-filled novel set during the Napoleonic Wars. A novel so vivid that one can easily imagine it being adapted as a period piece movie or streaming series in the future."-School Library Connection ,


"First-person chapters switch between sardonic Ironhead and naïve Pier, who struggles with his dysfunctional family and being unable to attend school, and the siblings' narratives become increasingly compelling as their stories intertwine. Vivid language in this novel translated from the Dutch doesn't shy away from the grime of everyday life or the graphic violence of war, and the descriptions of wartime medical procedures are not for the faint of heart.

Vivid and brutal-but not without a sliver of hope." - Kirkus Reviews,


"Fun and refreshingly feminist."-Seattle Book Review

"A perfect choice for fans of adventure tales with a prominent feminist streak."-Booklist,


[STAR] "Action-packed. Rich with detail. Rowdy and contemplative in turn, this celebration of historical gender nonconformity is as compelling as it is fun."-Publishers Weekly (starred),


[STAR] "Stance is a delightfully chaotic protagonist, who is (scandalously) free with her affection and kisses and whose easy charm gets her out of more than little trouble. Thrilling, often hilarious, and sometimes tear-jerking, this romp of a story is reminiscent of classic adventure tales."-Bulletin of the Center for Children's Books (starred)

"This is an absolutely wonderful book. The Napoleonic Wars have never been so feminist, so queer, or so much fun. Somehow simultaneously a haunting portrayal of the horrors of war and a hilarious caper about the disgusting, dimwitted men who try to keep a spirited young woman in her supposed place, Ironhead is for fans of Dickinson, The Great, and Outlander. In fact: Netflix, if you're listening, I've got your next great series right here."-Rebekah Shoaf, Boogie Down Books (Bronx, NY)

"This story moves like lightning and fuels me with the same powerful energy androgynous Stance aka Ironhead catalyzes."-Jacqueline Izzo, Books Are Magic (Brooklyn, NY)