Diversity at College: Real Stories of Students Conquering Bias and Making Higher Education More Inclusive (Paperback)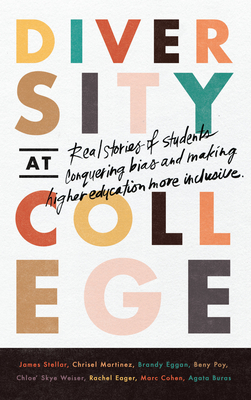 $19.95

Not Available In-Store - Usually Ships from Warehouse in 1-5 Days
Description
---
Five Revealing Stories. Real Student Experiences.
A roadmap to teaching and learning diversity for the next generation.
In this book, five recent undergraduates share their deeply personal struggles as students. From being a Latino at a campus filled with white faculty, to being a female medical student advised to "marry a doctor" - the stories in this book share the relatable struggles of real students, and how they overcame bias, stigma, stereotypes and ignorance to create a college experience that truly prepared them for the world.
These genuine stories are all curated by a professor with decades of experience in experimental education and behavioral neuroscience, who explores each experience through the lens of social science principles like implicit bias or stereotype threat. Together, these perspectives offer an actionable roadmap for students, faculty and administrators for genuine learning about diversity in a world that desperately needs it.
About the Author
---
Dr. James Stellar is a professor of behavioral neuroscience at the University at Albany, SUNY. He served there for 5 years as Provost with one year as Interim President. Prior to that he was Provost at Queens College, CUNY. This gives him a deep appreciation for the public university. Prior to that, he was for 10 years the Dean of Arts and Science at Northeastern University during its rapid rise as a cooperative education school in US News ranking, national applicant pool, freshman academic profile, graduation rate, etc. He also maintains consulting arrangements with several profit and non-profit entities giving him a useful view of industry besides being a co-op employer when he was a behavioral neuroscience researcher in the first half of his time at Northeastern. Stellar started his career as an assistant professor at Harvard University in 1978 after receiving his PhD from the University of Pennsylvania. Chrisel Martinez writes a highly personal chapter explaining how she grew up in New York City among a minority and lower income population but with strong family social support. At the university at Albany, she ran for student government vice president with Marc Cohen and that is where she and Stellar met and began an unusual collaboration of honesty and teaching that helped shape the tone and feel of this book well outside her chapter. After graduation, she took a powerful year-long Corel Fellowship in the city that helped further develop her passion for social justice and organizations, governments, the law that can produce it. Branden (Brandy) Eggan, PhD is an assistant professor of anatomy and physiology and neuroscience at Siena College. She comes from a background in addiction research and behavioral neuroscience but her current research focuses on themes shown in this book: the importance of diversity in higher education as well as barriers to success faced by specific underrepresented groups. Additionally, Brandy is active in many undergraduate and high school research programs focused on motivating these students into research and STEM careers. Mentorship is greatly important to her and she strives to serve as a role model and passionate advocate for students who feel their voices are not heard. At Albany Medical College Brandy also works with medical students and the national BNGAP (Building the Next Generation of Academic Physicians) board to advocate for URM students pursuing a career in academic medicine, where diversity and mentorship are lacking, following the completion of their graduate degree. Skye Weiser is an ESL teacher, international copywriter, and avid traveler who has lived in the USA, Israel, Czech Republic, and Denmark (so far). She was a 2014-2015 Fulbright English Teaching Assistant in the Czech Republic. Her experiences as a Writing Tutor at Queens College first sparked her passion for intercultural communication and fostering cultural understanding. A self-dubbed anthropologist, she explores language, culture, and the expat experience on her travel blog, Chlohemian.138Beny Poy currently works for the National Association of Latino Elected and Appointed Officials (NALEO) Educational Fund as a Program Coordinator. Beny's role involves advocating for the full engagement of the nation's 2nd largest demographic, Latinos, in all civic and political processes in a strictly nonpartisan manner. Beny's work focuses on Latino electoral participation as well as Latino inclusion in the decennial census and state redistricting process. Directly after college, after finishing up his internship with the Assembly Speaker, Beny returned to his home in the Bronx and took on the role of a Community Liaison where he advocated (Ongoing) Rachel Eager now works in Health Information Technology where she manages programs to get providers connected to New York's Health Information Exchange. On the side, she pursues a part-time Masters in Healthcare Administration from Columbia University. In May 2018, Rachel graduated with her honors degree in Biochemistry and Molecular Biology with minors in Political Science and Women's Gender and Sexuality Studies from the University at Albany. The professors at the university in so many ways helped to grow her as a person and increase her curiosity in learning. Although she originally wished to pursue medicine, her internships and professors pushed her towards her passion for health policy and health technology.