Manifesting: A Day and Night Reflection Journal (Inner World) (Paperback)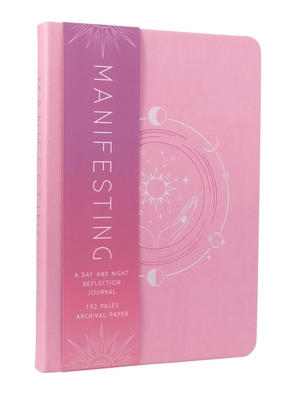 Description
---
Build a manifesting practice and create your own reality with this deluxe guided journal.

Manifesting is the practice of thinking aspirational thoughts with the purpose of making them real. By cultivating the experience of what you want and believing it is possible, you can achieve it. However, manifesting your dreams doesn't happen overnight. It requires patience, persistence, and your active participation.

Manifesting: A Day and Night Reflection Journal is a conscious tool to help you identify and build habits of manifesting anything you want to bring into your life. Designed as a 90-day support system, each daily spread includes a morning practice for reflecting on what you want to manifest, how it makes you feel, and the actions you can take to make it happen; and an evening practice to reflect on the process and to express gratitude for what you have received along your journey. Featuring delicate illustrations and a graceful, contemporary design, this 90-day journal is perfect for those seeking to enhance and elevate their lives by taking the necessary steps to manifest their dreams into reality.

JOURNALING MADE EASY: Guided prompts, forms, and checklists make it easy to set your intentions and reflect on your progress every morning and night.

INSPIRING ILLUSTRATIONS: Lovely illustrations offer inspiration and a beautiful backdrop for your hopes and dreams.

CULTIVATE YOUR DREAMS: Journaling of your daily goals helps develop focus and mindfulness.

DELUXE DESIGN: A sturdy vegan leather cover, foil accents, and a helpful ribbon marker make the journal a joy to return to and a lasting keepsake.
About the Author
---
Celebrated for its unwavering dedication to quality, Insight Editions is a publisher of innovative books, journals, and collectibles that push the boundaries of creativity, design, and production. Through its acclaimed film, television, and gaming program, Insight strives to produce unique books and products that provide new ways to engage with fan-favorite characters and stories. Under the program, Insight has published books covering the worlds of Star Wars, Game of Thrones, The Walking Dead, Destiny, Assassin's Creed, Halo, Diablo, World of Warcraft, and the Harry Potter films, among many others. Insight's award-winning art, photography, and sports titles celebrate the artistry and legacy of a wide range of subjects that include John Lennon, Kurt Cobain, Johnny Cash, and The Rolling Stones.

By combining rich subject matter, striking visuals, and exclusive content with imaginative design and production, Insight Editions strives to create unique keepsakes that celebrate the best in pop culture and make one-of-a-kind gifts for fans of all ages.