Tudor History: A Captivating Guide to the Tudors, the Wars of the Roses, the Six Wives of Henry VIII and the Life of Elizabeth I (Hardcover)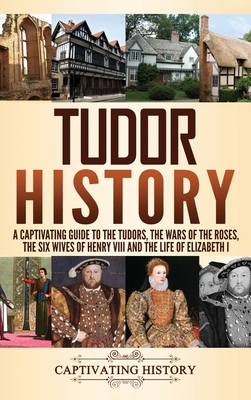 $29.99

Not Available In-Store - Usually Ships from Warehouse in 1-5 Days
Description
---
If you want to discover the captivating history of the Tudors, then keep reading...
Four captivating manuscripts in one book:
The Tudors: A Captivating Guide to the History of England from Henry VII to Elizabeth I
The Wars of the Roses: A Captivating Guide to the English Civil Wars That Brought down the Plantagenet Dynasty and Put the Tudors on the Throne
The Six Wives of Henry VIII: A Captivating Guide to Catherine of Aragon, Anne Boleyn, Jane Seymour, Anne of Cleves, Catherine Howard, and Katherine Parr
Elizabeth I: A Captivating Guide to the Queen of England Who Was the Last of the Five Monarchs of the House of Tudor
Five Tudor monarchs sat on the throne of England and Ireland from 1485 to 1603. The family earned their royal rights through strategic planning and battlefield prowess, and kept them because of intellect, strength and sheer determination. The Tudors, one of England's most powerful and famous royal dynasties, knitted together a fragmented and small island nation that became one of the world's financial, colonial and technological superpowers.
There is so much more to the story of these kings and queens than beheadings, political marriages and the reformation of the church - but those events remain some of the family's most enthralling moments.
Some of the topics covered in part 1 of this book include:
The Tudors of Wales
The Wars of the Roses
Catherine of Valois, Mother of the Tudor Dynasty
Margaret Beaufort, Second Tudor Matriarch
King Henry VII
Arthur Tudor
King Henry VIII
Margaret Tudor, Sister of Henry VIII
Mary Tudor, Queen of France
The Birth of the Church of England
King Henry VIII: Wives Two and Three
King Henry VIII: The Last Three Wives
King Edward VI
The Nine Days' Queen, Jane Grey
Elizabeth Tudor
Mary Stuart, Queen of Scots
And much more
Some of the topics covered in part 2 of this book include:
A Short History of the House of Plantagenet
Civil War in France
England's Loss and a King's Illness
Treason by the Duke of York
The Battle of Northampton
Margaret's Army
Mortimer's Cross and the Battle of Towton
York Takes the Throne
The King in the Tower
The Kingmaker Repents
The Battles of Barnet and Tewkesbury
The Death of a King
The Final Plantagenet Kings
Richard III and the Princes in the Tower
The Battle of Bosworth
The Foundation of the Tudor Dynasty
Attempts on the Tudor Throne
The Sainthood and Cult of King Henry VI
The Legacy of the Wars of the Roses
And much, much more
Some of the topics covered in part 3 of this book include:
Henry Tudor
Catherine of Aragon
Mistress Elizabeth Blount
Mistress Mary Boleyn
Anne Boleyn
Anne of Cleves
Mistress Mary Shelton
The Wooing of Jane Seymour
Catherine Howard
The Culpeper Affair
Katherine Parr
More Theories on Henry Tudor's Fertility
The Illegitimate Children of Henry VIII
And much more
So if you want to learn more about Tudor history, click the "add to cart" button