The Three Cs That Made America Great: Christianity, Capitalism and the Constitution (Paperback)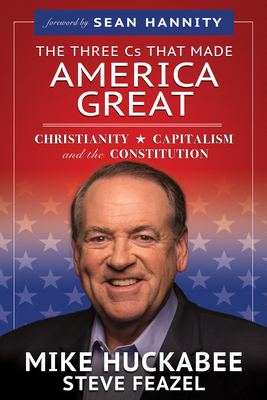 $19.99

Not Available In-Store - Usually Ships from Warehouse in 1-5 Days
Description
---
America faces a war of values that will determine its future and likely decide if it will continue as a great nation on the world stage. Three Cs That Made America Great is a book that looks at the three factors that made America great: Christianity, Capitalism and the Constitution.
History gives ample evidence that these three foundations were essential in the nation's independence, economic world leadership and the protection of people's liberty. One would think that these three foundational stones would be safeguarded and treasured throughout the land. Sadly, that is not the case as sinister forces are attacking all three.
In this timely book you will learn:
Christian influences on our nation's founding
Our Founding Father's beliefs on Capitalism as a weapon against poverty
How the Constitution protects our individual liberties
How to identify the dangers of corruption advocated by liberal politicians
Authors Mike Huckabee and Steve Feazel teach the Three Cs that Made America Great, and empower you to teach this to every generation and make every effort to instill them in the citizens of the nation.
About the Author
---
Mike Huckabee was a presidential candidate in 2008 and 2016, was governor of Arkansas from 1997-2007. He is host of "Huckabee" each weekend on TBN and a Fox News Contributor. He is the author of 13 previous books, including several New York Times bestsellers. He and his wife, Janet, live in Florida and still spend time in Arkansas. They have three grown children and six grandchildren. Steve Feazel is an ordained minister in an evangelical denomination where he served as pastor. He has taught as an adjunct professor of business at various universities, He produced three award-winning faith-based documentaries on social issues including the pro-life side of abortion. Besides holding a degree from seminary, he has an MBA from Arizona State University. His first published book entitled, Abduction: How Liberalism Steals Our Children's Hearts and Minds, was coauthored with Dr. Carol Swain. He and his wife, Edythe, have two grown sons and five grandchildren. They reside in Ohio. Steve's website is visionword.com.