The Ultimate Baby Book for New Dads: 100 Ways to Care for Your Baby in Their First Year (Paperback)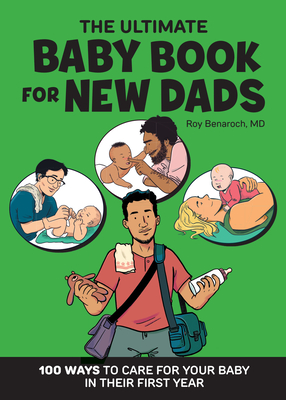 Description
---
The baby owner's manual to help new dads succeed
Covering everything from burping and naptime to filing for paternity leave and setting up a safe play area, this is the complete survival manual for first-time dads. Discover more than 100 things dads can do to help their baby—and their partner—thrive in the first year.
Go beyond other books for new dads with:
Up-to-date advice—Written by an experienced pediatrician and featuring the most modern, evidence-based info available, this guide is everything books for new dads should be.
From birth to 12 months—Divided into easy-to-skim sections, this book makes it simple for new dads to find out what they need to do at every stage of baby's development.
A positive outlook—Let this standout in books for new dads bring a little good humor to parenthood and help keep things upbeat through sleepless nights and messy diapers.
This top choice in books for new dads offers all the info needed to take great care of that new little person at home.
About the Author
---
ROY BENAROCH, MD, is a father of three, and has been a general pediatrician for more than 20 years. This is his third book for parents. His blog, The Pediatric Insider, has had more than 5 million views since its inception in 2008.
Praise For…
---
"Dr. Benaroch's extensive pediatric experience shines through as he guides new dads in understanding their baby's first year of life. This book delivers exactly what new fathers need to know using everyday language. It's easy to read, well-illustrated, and informative! A great companion for any new dad." —Paul Smolen MD, FAAP, author of Can Doesn't Mean Should, Essential Knowledge for 21st Century Parents and Great Kids Don't Just Happen: 5 Essentials for Raising Successful Children

"The dad's eye view—Dr. Benaroch gives new fathers practical how-tos from burping a baby, to supporting a breastfeeding mom, to giving a haircut. This book is on my list of essential reads." —Dr. Naline Lai, pediatrician, mother of three, and co-founder of twopedsinapod.org

"Dr. Benaroch has written a book that I wish I had as a new dad… and I am a pediatrician, too! He offers practical advice that covers all aspects of new parenthood in a warm, fun way that reflects his vast experience both as a pediatric physician and a dad." —Solomon Behar, MD, host and senior medical editor of Peds RAP Podcast, pediatric emergency physician

"In this book, Dr. Benaroch breaks down everything dads need to know to engage, bond with, and care for their new baby. Additionally, it provides fun and creative ideas for playing with baby as they develop, a welcome inclusion for any parent who has wondered, 'What am I supposed to do now?' A comprehensive and easy-to-read guide that absolutely deserves a spot on your parenting bookshelf!" —Alexis Dubief, author of Precious Little Sleep