Complete Color Charts for my Arts - Color Swatches Themes, Color Wheels, Image Inspired Color Palettes: 3 in 1 Graphic Design Swatch tool book, DIY Co (Paperback)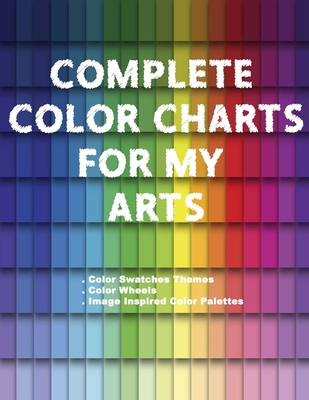 $7.99

Not Available In-Store - Usually Ships from Warehouse in 1-5 Days
Description
---
★ To Preview Layouts, check the back cover of the book ★
With this book, you will have fun trying and testing your art supplies and creating some exceptional personalized themes and color combinations based on new inspirations, moods, images...
You can mention each theme you created with its page number in the customizable table content, which will keep you more organized and makes it easy to find when you need it.
TIP: Even the paper of this book is a premium quality, and thick enough, it's better to place a piece of cardboard paper under the page while coloring to prevent any eventual unwanted bleed through and indents.
In this book, we have three different creative ways to swatch colors:
Color Swatches Themes:
◆ Swatch out your markers, colored pencils and gel pens with these 48 colors blank boxes per page, perfect for any art sets.
◆ You can create your color themes based on your design style, your art supplies, different hues of each color and combinations, there is a blank page for each swatch page that allows you to test and try colors before referencing them in boxes or you can also take some free notes and do some sketches...
◆ These 1920 blank color boxes (48 boxes/page x 40 pages) are the perfect way to see the color quality of your art tools..
Color Wheels:
◆ Don't let the color wheel intimidate you, start playing with fun color combinations and practice more the color theory with 20 color wheels and 12 color boxes each.
◆ The color wheel is a chart representing the relationships between colors. It will serve you in many purposes as an artist, and you can use it to identify colors to mix and match and choose colors that go well together.
◆ It will help you identify harmonious color combinations and develop the appropriate color scheme.
Image Inspired Color Palettes:
◆ If you love to find coloring inspirations in beautiful photos and images, this part is perfect for you
◆ Nothing inspires more than an amazing picture, these color palettes will give you ideas and inspire unique astonishing color combinations that you may not have thought of otherwise.
◆ This part will enable you to catalog those combinations and apply them to your art.