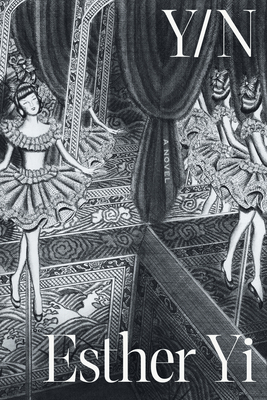 Description
---
New York Times Notable Book of 2023
New Yorker Best Book of 2023 (Essential Read)
NPR Best Book of 2023
TIME Must-read Book of 2023
Bookshop.org Best Book of 2023
Chicago Public Library Favorite Book of 2023
Esquire Best Book of 2023 
Elle Favorite Book of 2023 
Cosmopolitan Best Book of 2023 
PopSugar Best Book of 2023 

It's as if her life only began once Moon appeared in it. The desultory copywriting work, the boyfriend, and the want of anything not-Moon quickly fall away when she beholds the idol in concert, where Moon dances as if his movements are creating their own gravitational field; on livestreams, as fans from around the world comment in dozens of languages; even on skincare products endorsed by the wildly popular Korean boyband, of which Moon is the youngest, most luminous member. Seized by ineffable desire, our unnamed narrator begins writing Y/N fanfic—in which you, the reader, insert [Your/Name] and play out an intimate relationship with the unattainable star.

Surreal, hilarious, and shrewdly poignant, Y/N is a provocative literary debut about the universal longing for transcendence and the tragic struggle to assert one's singular story amidst the amnesiac effects of globalization. Esther Yi's prose unsettles the boundary between high and mass art, exploding our expectations of a novel about "identity" and offering in its place a sui generis picture of the loneliness that afflicts modern life.


About the Author
---
Esther Yi was born in Los Angeles in 1989 and currently lives in Leipzig, Germany.
Praise For…
---
"Strange, funny, and at times gorgeous . . . Full of characters that squirm and run together, as if the reader were trying to decipher an out-of-focus eye chart, the book evokes how precarious identity itself can be . . . Yi displays a keen sense of irony; her oneiric, ceremonious writing has the consistency of a poem put in a blender with an academic paper."
—Katy Waldman, New Yorker

"Y/N resists the junkiness of the internet . . . against which a well-formed novel like this counteracts, a blast of cleansing heat."
—Alexandra Jacobs, New York Times

"My definition of an unputdownable book . . . witty, astute, and self-aware."
—Melissa Broder, Guardian

"Rare . . . magically recursive . . . [Y/N] is the opposite of 'Own Voices' identity fiction (a label recently entered into the official list of categories of literature); it is a novel concerned with humans as Other, of love as distance, of language as foreign, and of beauty as reproduction."
—Olivia Kan-Sperling, n+1

"This book is so good it's hard to believe it's a debut novel . . . Take what you think about boy bands and dial it up to 11. For the first half I was laughing to myself, writing haha in the margins, and I noticed at a certain point I had stopped laughing because I was thinking so deeply . . . [Y/N] is short but so deep, so meticulously crafted. After I finished it I wanted to start over."
—MJ Franklin on the NYTBR Podcast

"The most adroit depiction of celebrity and parasocial relationships I have ever read. Bizarre, confidently so, yet observant and abounding in humanity and humor, every sentence is a surprise."
— Tochi Onyebuchi, NPR (Best Books 2023)

"[A] savage story about a young woman's rapturous descent into our modern-day religion of celebrity worship, fanfiction, and ubiquitous parasociality. The girls who get it, get it."
—Delia Cai, Vanity Fair

"[A] piercing, feverish, and frequently astonishing debut."
—Leah Greenblatt, Entertainment Weekly

"Much mainstream writing about K-pop in the West . . .  [is] chipperly respectable and pretty boring . . . In contrast to the standard narratives, Y/N is less interested in demystifying a cultural phenomenon by creating a legible justification for why someone becomes obsessed; it simply throws readers down the hole of obsession in all its fevered absurdity . . . Y/N is more freakish and hallucinatory than your average satire."
—Cat Zhang, Vulture

"This debut novel, a Kafkaesque fever dream about fandom and obsession, arrives right on time . . . Haunting yet playful, immersive yet unreal, Y/N is a brilliant dissection of consumption in all its forms—how we consume art, and how it consumes us."
—Adrienne Westenfeld, Esquire

"Y/N is an utterly brilliant, shining, and mesmerizing debut that will make you rethink everything you know about fandom, celebrity, and parasocial relationships."
—Tamara Fuentes, Cosmopolitan

"[A] clever debut . . . a true novel of the era." 
—Lauren Puckett-Pope, Elle

"A riveting and innovative tale about identity, fandom, and art."
—Laura Zornosa, TIME

"Stunning . . . Strange, haunting, and undeniably beautiful, [Y/N] shines."
—Publishers Weekly (Starred)

"Everything about this debut novel is a fuck yes."
—Johanna Hedva, Lit Hub

"A surreal quest that seems tailor-made for the present moment . . . [Y/N is] a heady, immersive journey into musical fandom and cultural dislocation."
—Kirkus Reviews

"Yi's comic style is an anarchic, many-layered thing . . . You start to suspect that, far from being a snarky satire of fandom, her novel may be lampooning the pretensions of literary fiction . . . Unlike the formulaic pop material she animates here, Yi has fashioned a novel that is witty, self-knowing, and, extraordinarily, far beyond categorization."
—Robert Collins, The Times (UK)

"This is a curious, cerebral work, shot through with moments of tender poetry and a vertiginous self-awareness."
—Nina Allen, The Guardian

"A refreshingly quirky debut novel."
—Times Literary Supplement

"Y/N is frighteningly, coolly adept at vivisecting experiences of fandom obsession without suggesting it is above them . . . Luxuriously indecipherable . . . Y/N's aphoristic surface is precarious, flexible, never going so far as to yield the pleasure of making sense. Rather, it dressed me down; sliced me open to reveal the clean emptiness of a floating, futile state of existence."
—Trisha Low, Tor.com

"Yi is an inventive writer, eschewing labels, genres and, most certainly, expectations."
—Terry Hong, Shelf Awareness

"[A] bracing and brilliant debut . . . [Y/N is] a funny, surreal, and rousing search for the unattainable that reaches beautiful heights of absurdity, paranoia, and existential panic."
—Colin Winnette, Electric Lit

"In this sharp and humorously perverse novel, Yi examines the sort of identity-altering, obsessive fandom that is only destined to disappoint if one looks too closely."
—Emily Park, Booklist

"Surreal and stylish . . . That Yi navigates such weirdness with stylized precision and authorial purpose is a testament to her profound talent. This is a short book, but undeniably significant, a destined-to-be-classic."
—Miles Doyle, Commonweal

"Y/N is a funny and deeply original meditation on love, devotion, and spirituality, and one need not be familiar with the world of K-pop fandoms to enjoy Yi's brilliant prose . . . [this] is a book that demands to be read and reread."
—Angela Hui, 48 Hills

"[In Y/N,] love and obsession are at odds, placed against a backdrop of an intense K-pop fandom, a balance Yi strikes flawlessly . . . With Yi's clean prose, it's easy to see the slippery slope from fan to obsessive adorer at the expense of self."
—Hannah Ryder, West Trade Review

"Yi's debut is weird and whimsical, transcending reality the way many a K-pop music video attempts to, finding escapism in the pursuit of something as unattainable as the Moon."
—Tamar Herman, Mekong Review

"Y/N is one of the most daring novels of the year. Yi has set a new standard for internet-influenced literature by showing that online and literary narratives exist hand in hand, creating the world with every word."
—Eric A. Ponce, Bookpage (Starred)

"A fascinating and complicated depiction of how we create and assert our identity." 
—Michael Welch, Chicago Review of Books

"Esther Yi's debut is absurdly funny, brilliantly surreal and wildly unique. It speaks to 21st century technosocietal conundrums of celebrity obsession, loneliness, voyeurism, media and consumption."
—Karla J. Strand, Ms. Magazine

"[A] witty, worldly romp into a subculture of boy bands, fanfic, and online parasocial relationships."
—Patrick Rapa, Philadelphia Inquirer

"[A] lyrical debut . . . Yi's novel takes on a surreal, almost hallucinatory atmosphere that blurs the line between what is real and what is imagined."
—Enica Davis, Library Journal

"Y/N dissolves the differences between low and high art in pursuit of larger social questions about fulfillment, desire, and devotion . . . Y/N recognizes fandom and fanfiction as indicative of modern society's deficiencies––and invites discussion about the ways in which obsession, devotion, art, pleasure, and dependency manifest in modern life."
—Regan Mies, Necessary Fiction

"Y/N is a fast paced debut full of intriguing sentences and apt-observations steeped in humor. Fans of millennial fiction looking for a palette cleanser will gravitate towards this novel which takes us on a surreal journey of modern desire."
—Kiran Gill, Open Letters Review

"Please take this blurb as me dropping [this book] in front of you with . . . urgency."
—Katie Yee, Literary Hub

"Surreal and stylish. Yi delivers an absurd, but also grounded, expose on internet obsession. It's almost like the book-version of Ingrid Goes West. You'll belly laugh, cringe, cry, and at the end of the day connect with Yi's main character."
—Adam Vitcavage, Debutiful

"Yi's absurd, hypnotic, and very funny novel is about obsession, sublimation, and weird as hell fanfiction about Moon, a boy from the book's BTS stand-in. Very much Being John Malkovich energy."
—Arianna Rebolini, Reading Habits

"Sumptuous, precise, and full of pulsing, startling life, Yi captures with finesse the rhythms of internet voyeurism, the corporeality of parasocial desire, and the very heartbeat of contemporary longing."
—Alexandra Kleeman, author of Something New Under the Sun

"Bold, audacious, and stylish, Esther Yi is a marvelous writer who reminds me of Yoko Tawada and Marie NDiaye. Esther Yi takes our contemporary human culture, dismantles it, and makes it into something new. The clarity of her absurd vision is singular and important."
—Patrick Cottrell, author of Sorry to Disrupt the Peace

"Crisp zeitgeist setups within a transnational now—Esther Yi's sharp, sculpted paragraphs beat with a hilarious demonheart that'll make you cry. I loved it."
—Eugene Lim, author of Search History

"Esther Yi's debut novel reads with decisive, alarming confidence, in a prose style that's both intellectually rigorous and playfully perverse. Yi has a preternatural sense for the ways we speak past each other, locked as we are in the whirlpools of our own devotion—Y/N reveals the unexpected places desire can lead us, if only we are willing to lose ourselves."
—Larissa Pham, author of Pop Song

"Esther Yi's every paragraph is revelatory, unexpected, with an intense capacity to see the world anew, such that we are empowered again in the matter of astonishment. I admire her work so much." 
—Rick Moody, author of Hotels of North America