Una vez fui tú -- Edición para jóvenes (Once I Was You -- Adapted for Young Readers): Cómo encontré mi voz y hoy paso el micrófono (Paperback)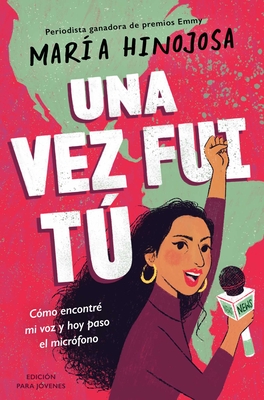 Description
---
Ahora para jóvenes lectores, la periodista ganadora de cuatro premios Emmy y presentadora de Latino USA de NPR, María Hinojosa, cuenta la historia de la inmigración en los Estados Unidos a través de las experiencias de su familia y décadas de hacer reportajes, con lo cual crea un retrato de un país en crisis.

María Hinojosa es una periodista ganadora de premios Emmy y la primera latina en fundar una redacción independiente sin fines de lucro en los Estados Unidos. Pero, antes de todo eso, fue una niña con una gran melena y sueños aún más grandes. Nacida en México y criada en el vibrante barrio de Hyde Park, en Chicago, María siempre buscó la forma de comprender mejor el mundo que la rodeaba… y la manera de encajar en él. En este libro combina historias de su vida, desde la imborrable experiencia de pertenecer a una familia de inmigrantes hasta el momento en que escuchó su propia voz en radio nacional por primera vez, ofreciendo sus observaciones y percepciones sobre la larga y complicada relación entre los Estados Unidos y sus inmigrantes. Divertida, franca y colmada de sabiduría, la historia de María es una que querrás leer una y otra vez, y su voz te inspirará a encontrar la tuya.
About the Author
---
Maria Hinojosa's nearly thirty-year career as a journalist includes reporting for PBS, CBS, WGBH, WNBC, CNN, NPR, and anchoring and executive producing the Peabody Award–winning show Latino USA, the longest running national Latinx news program in the country, distributed by PRX. She is a frequent guest on MSNBC, and has won several awards, including a Pulitzer Prize, four Emmys, the Studs Terkel Community Media Award, two Robert F. Kennedy Awards, the Edward R. Murrow Award from the Overseas Press Club, and the Ruben Salazar Lifetime Achievement Award. Her seven-part podcast series Suave won the Pulitzer Prize for Audio Reporting in 2022. She has also been inducted into the Society of Professional Journalists and the American Academy of Arts and Sciences. In 2010 she founded Futuro Media, an independent nonprofit newsroom and production company with the mission of producing multimedia content from a POC perspective. Through the breadth of her work and as the founding coanchor of the political podcast In the Thick, Hinojosa has informed millions about the changing cultural and political landscape in America and abroad. She lives with her family in Harlem in New York City.