Are You a Forever Family? (Paperback)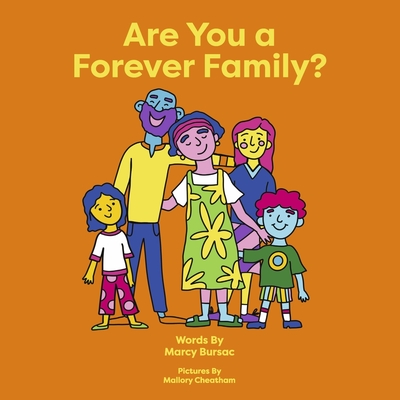 $11.99

Not Available In-Store - Usually Ships from Warehouse in 1-5 Days
Description
---
Some children need a forever family.
Some forever families adopt one child.
Some forever families adopt a group of children.

"Are You a Forever Family?" is written by adoptive mom and podcast host Marcy Bursac. Dive into the pages of this inspiring tale and enjoy cheerful pictures that celebrate what it means to be an adoptive family. You'll find this book is not only a celebration, but an invitation for readers to consider becoming a forever family for the thousands of children waiting in the US foster care system. This heartwarming book delivers the hope-filled message that forever families are all around us, and any type of family can become one. So, it's worth asking yourself: Could you be a forever family?

In the United States, populating our neighborhoods, communities, and schools are 115,000 children waiting for a forever family. With a financial cost of just $0 - $2,500 per child, adopting a child or sibling group through the foster care system is more affordable than most would think. Within the pages of this book are the facts and statistics those who are thinking about adopting will need to make their final decision. The visual nature of the book also aids those who are curious about the process of parenthood, and topics such as fertility, raising multiple children at once, and dealing with the US foster care system are addressed. Marcy Bursac continues to write meaningful and passionate companion books for those who need them, so what are you waiting for? Now is your chance to not only change your life, but the life of a child or sibling group.

To learn more about becoming a forever family for children in the United States visit forgottenadoptionoption.com.
About the Author
---
Adoption was Marcy's Plan A.

She and her husband adopted a biological sibling pair.

While remote schooling her children during the pandemic, she began to see a gap between adults with a desire to adopt and the 115,000 adoptable children within the United States.

With a heart for those children and a deep desire to take action, she wrote a book for adults ("The Forgotten Adoption Option: A How-To and Self-Reflection Guide for Pursuing Foster Care Adoption") and launched a podcast (The Forgotten Adoption Option Podcast).

As USOA Mrs. Ohio 2022 she an ambassador for the Dave Thomas Foundation for Adoption on a quest to find forever families for the 115,000 United States children who are waiting to be adopted through foster care.

After placing in the Top 16 at the United States of America's Mrs. Pageant and winning the People's Choice Award, she published the children's book "Are You a Forever Family?" and is developing an app (The Forgotten Adoption Option App) to teach 25,000 adoptive families how to get licensed to adopt through foster care. Illustration has been Mallory Cheatham's passion since she was young. Some of her earliest memories are of drawing detailed characters in elaborate costumes with her big pack of colored pencils. Mallory grew up in the Middle East, North Africa, and Central Asia. These adventures exposed her to a variety of cultures and people, igniting her imagination with stories from around the world. This broad worldview plays a prominent role in her current work, from her vivid colors and patterns, to her inclusion of culturally diverse people.

Mallory considers herself a visual storyteller. Her priority is bringing recognition and dimension to people who might otherwise be overlooked. She also has a vivid imagination. When left on her own, she likes to draw monsters and fanciful landscapes of jungles. Her degree in graphic design and knowledge of traditional illustration mediums such as watercolor and gauche have served as her tools in bringing to life the world inside her mind.

When Mallory isn't drawing she can be found somewhere in nature. She likes to explore new hiking trails and spend time on the lake paddleboarding and kayaking. She currently resides in Durango, Colorado on a hobby farm with her two cats, two dogs, three horses and five chickens.