Sammy's First Day: How Sammy Made Friends With the Power of Kindness (Paperback)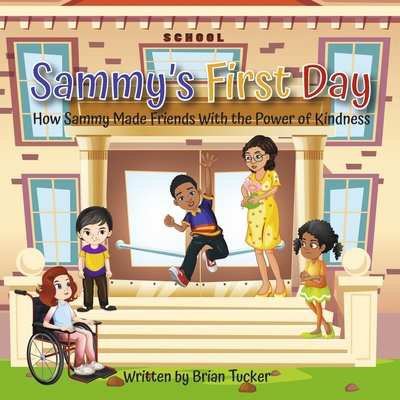 $15.00

Not Available In-Store - Usually Ships from Warehouse in 1-5 Days
Description
---
It's Sammy's first day at school and it's causing a lot of different feelings inside!
One moment, Sammy is really excited. He can't wait to learn from his teachers and make a whole bunch of new friends. But then the next moment, he's a little nervous. Feeling nervous makes him shy and quiet, and he's not sure he can make any friends at all. Thankfully, his mom is right there with him, to remind him to stay calm and to give him wise words that will help him through his big day.

"Be positive, be understanding, and be kind."

With these words in his mind and a smile on his face, Sammy finds himself making friends wherever he goes. He helps a girl hang up her coat, he gives a boy a spare pencil, and he sits with everyone at lunch.

But what will Sammy do when he sees someone sitting by themselves? Will he be able to spread kindness and friendship throughout the class?

Find out in Sammy's First Day, a heartwarming and inspiring tale of kindness, friendship, and the importance of mindfulness.
About the Author
---
Brian Tucker is a certified fitness trainer, yoga teacher, and entrepreneur living in Richmond, Virginia, USA. Having previously worked as a corporate trainer and operations manager, Brian now owns his own professional courier delivery service, teaches yoga, and runs mindfulness workshops for schools and corporate offices. He lives near his family with his puppy, Sam.

For Brian, an active, healthy lifestyle provides a lot of inspiration in both his working and creative life. As well as marathon running, weightlifting, and Latin dancing, he also has a deep passion for health and wellness, reading, and writing. Brian values a holistic approach to health in order to live a fulfilling life, and his creative work is defined by his love for peace, tranquility, and connection. These values have motivated Brian in his writing and given him the desire to educate and empower children of all ages into finding their own path to a healthy, fulfilling life. Effective and clear writing has always been his goal, and even through his changing life, he has always been a committed and avid journaler. Taking experience from both his time as a yoga teacher and drawing on his diverse foundation of professional experience and leadership, he draws inspiration from his loved ones and aims to tell stories that are relatable to people and can bring about positive changes in their lives.

In Sammy's First Day, we see Brian's passion for true and honest connection. His work will continue to inspire the underdog and bring the messages of mindfulness and good health to a new generation, in a way that is both creative and memorable.