Bully Market: My Story of Money and Misogyny at Goldman Sachs (Hardcover)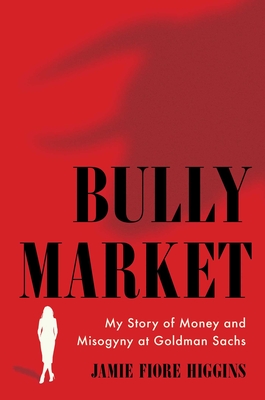 $28.99

Not Available In-Store - Usually Ships from Warehouse in 1-5 Days
Description
---
A "riveting and powerful" (Gretchen Carlson, cofounder of Lift Our Voices) insider's account on Wall Street where greed coupled with misogyny and discrimination enforces a culture of exclusion in the upper echelons of Goldman Sachs.

Jamie Fiore Higgins became one of the few women at the highest ranks of Goldman Sachs. Spurred on by the obligation she felt to her working-class immigrant family, she rose through the ranks and saw it all: out-of-control, lavish parties flowing with never-ending drinks; affairs flouted in the office; rampant drug use; and most pervasively, a discriminatory culture that seemed designed to hold back the few women and people of color employed at the company.

Despite Goldman Sachs having the right talking points and statistics, Fiore Higgins soon realized that these provided a veneer to cover up what she found to be an abusive culture. Her account is one filled with shocking stories of harassment and jaw-dropping tales of exclusionary behavior: when she was told she only got promoted because she is a woman; when her coworkers mooed at her after she pumped for her fourth child, defying the superior who had advised her not to breastfeed; or when a male boss used a racial epithet in front of her, other colleagues, and clients without any repercussions.

Bully Market sounds the alarm on the culture of finance and corporate America, while offering clear, actionable ideas for creating a fairer workplace. Both a revealing, extraordinary look at the industry and a top Wall Streeter's explosive personal story, Bully Market is an essential account of one woman's experience in a flawed system that speaks to the challenge and urgency for change.
About the Author
---
Jamie Fiore Higgins worked as a managing director at Goldman Sachs. One of just 8 percent of Goldman employees to earn the managing director title, she was the highest-ranking woman in her department. An active member of the Women's Network Committee, Fiore Higgins spent her workdays running the trainee and internship programs, recruiting, and managing top equity clients and $96 billion in stock. Living in New Jersey with her husband and four children, she is a trained coach, working with teens to hone in on their leadership skills, high school, and college graduates as they begin careers, professionals as they navigate the workforce, and those in midlife looking to reinvent themselves. She is also a contributor for Medium and Thrive Global.
Praise For…
---
"Higgins is unafraid to, as they say, 'go there,' taking us into the bathroom and elsewhere for spilled breast milk, rivulets of child diarrhea and vomiting episodes courtesy of her sister, her children, herself. Indeed there is something effluvial about the entire book, as if the #MeToo movement provided her, narratively speaking, with a stiff dose of ipecac syrup. It's gross, but propulsive, and also — in the case of a graphic miscarriage during her ferry commute, to which her boss displays a stunning but all-too-believable indifference — brave and poignant. At a time when many white-collar workers are lobbying for the right to keep Zooming in sweatpants, Bully Market is a reminder of when offices were stage sets in the sky for dark, outrageous human drama." —New York Times

"Jamie Fiore Higgins's Bully Market is a riveting and powerful story of one woman's experience in finance, as she climbs the corporate ladder amidst harassment and discrimination. You might argue that this book isn't even about Goldman Sachs, but about the behaviors and patterns we're willing to accept across all of corporate America." —Gretchen Carlson, acclaimed journalist, co-founder of Lift Our Voices, and female empowerment advocate

"On Wall Street, it's unusual to make it into the club of Goldman managing directors, as [Jamie Fiore Higgins] did in 2012, and almost unheard of to tell the world what goes on there. The book will make Fiore Higgins one of the most senior people to do it." —Bloomberg

"Jamie Fiore Higgins's entrancing firsthand account of her time as a high-up managing director at Goldman Sachs is a breath of fresh air—not for the stories of abuse and discrimination, which are maddening—but for the overdue chance to finally bring the truth to light. With grace and precision, she shows the hypocrisy of finance and how it and other industries can, and must, change for the next generation."
—Emily Chang, author of Brotopia: Breaking Up the Boys' Club of Silicon Valley and host of Bloomberg Technology

"Higgins recounts Goldman Sachs' toxic work environment in jaw-dropping detail, rivaled only by the remarkable candor with which she reveals her own culpability in tolerating such behavior. A brave and vivid portrait of a destructive corporate culture and toxic sexism and the terrifying toll it took on Higgins and her family." —Booklist

"[One of America's leading financial institutions is rife with misogyny, homophobia, and racism, according to this] scintillating exposé…. A persuasive warning that Wall Street still has a long way to go to become a more human and equitable workplace." —Publishers Weekly

"In her debut memoir, Fiore Higgins mounts a scathing critique of the sexist, racist, homophobic, and elitist culture pervading Goldman Sachs... A disturbing portrait of power and greed." —Kirkus Reviews

"Bully Market is essential to understanding the power dynamics at play in one of the most influential and powerful industries in the world. It's shocking, saddening, and infuriating by turn, but empowering in the way that it imagines what the future of the workplace can look like."
—Linda Babcock, professor of economics at Carnegie Mellon University and bestselling author of The No Club and Ask for It

"Bully Market exposes the #MeToo movement's unfinished work on Wall Street and should be required reading in the Goldman Sachs C-Suite. Working women will see themselves in Jamie Fiore Higgins' seering story, cheering on the daughter of immigrants and mother of four as she overcomes misogyny and discrimination to become a Managing Director at the storied firm. From assault to punishing women for becoming mothers, Bully Market shines a bright light on Goldman's broken culture and all of corporate America's failure to keep its promises to women—and challenges business leaders to heed Higgins' call for transformative change and equality." —Meighan Stone, former president of the Malala Fund and author of Awakening: #MeToo and the Global Fight for Women's Rights

"In this engrossing book, Fiore Higgins takes us on her turbulent journey from a working-class immigrant family to an unprincipled upper echelon of Wall Street. Her personal story exposes the sickening pull of money in a society devoid of a safety net and wired for profit maximization, and the misogynistic, racist, and homophobic work environment it fuels. Bully Market is an urgent call to rectify economic systems that create extreme inequality and workplace cultures that talk a good game but remain destructive for anyone who does not 'fit the mold'." —Julie Battilana and Tiziana Casciaro, authors of Power, for All