The Hawk's Way: Encounters with Fierce Beauty (Hardcover)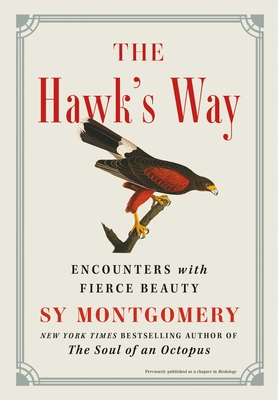 Description
---
A splendid and luminous celebration of one of nature's most perfect and mysterious creatures—the hawk—from the New York Times bestselling author of the "astoundingly beautiful" (NPR) The Soul of an Octopus.

When Sy Montgomery went to spend a day at falconer Nancy Cowan's farm, home to a dozen magnificent birds of prey, it was the start of a deep love affair. Nancy allowed her to work with Jazz, a feisty, four-year-old, female Harris's hawk with a wingspan of more than four feet. Not a pet, Jazz was a fierce predator with talons that could pierce skin and bone and yet, she was willing to work with a human to hunt. From the first moment Jazz swept down from a tree and landed on Sy's leather gloved fist, Sy fell under the hawk's magnetic spell.

Over the next few years, Sy spent more time with these magnificent creatures, getting to know their extraordinary abilities and instincts. They are deeply emotional animals, quick to show anger and frustration, and can hold a grudge for years. But they are also loyal and intensely aware of their surroundings. In this mesmerizing account, featuring sixteen pages of gorgeous color photographs, Sy passionately and vividly reveals the wonderous world of hawks and what they can teach us about nature, life, and love.
About the Author
---
Sy Montgomery is a naturalist, adventurer, and author of more than thirty acclaimed books of nonfiction for adults and children, including The Hummingbirds' Gift, the National Book Award finalist The Soul of an Octopus, and the memoir The Good Good Pig, which was a New York Times bestseller. The recipient of numerous honors, including lifetime achievement awards from the Humane Society and the New England Booksellers Association, she lives in New Hampshire with her husband, writer Howard Mansfield, and a border collie.
Praise For…
---
"If you're a bird-lover—or otherwise revel in nature—you'll appreciate Montgomery's latest... It's an informative read that will make you want to go outside and look up into the sky." —Washington Post

"The book explores Sy's fascination with hawks, starting with her relationship with a falconer's Harris's hawk named Jazz. Through Jazz and her kind, Montgomery explores these magnificent, loyal, and fierce creatures, helping to better understand the natural world." —BookRiot

"The Hawk's Way is a perfect gift for the nature lovers in your life, and it's the ideal size to tuck in your backpack the next time you head out for a hike into the majesty and mystery of nature." —BookReporter

"To anyone curious about the allure of falconry, [The Hawk's Way] is a good place to start." —The Wall Street Journal

"Montgomery hooks readers with a striking opening line… Montgomery offers a good amount of stimulating information about raptor behavior, a primer on the language of falconry, and some surprising insights into what is thought to be a hawk's mindset." —Kirkus Reviews

"[An] impassioned introduction to falconry… Heartfelt and informative… just right for adventure- and animal-loving readers." —Publishers Weekly

"Gorgeously illuminating and deeply affecting." —Booklist

"Radiant…Collapsing the distance between birds and people, this concise and charming book feels custom-made for readers of Helen Macdonald's H Is for Hawk." —Shelf Awareness