O Caledonia: A Novel (Paperback)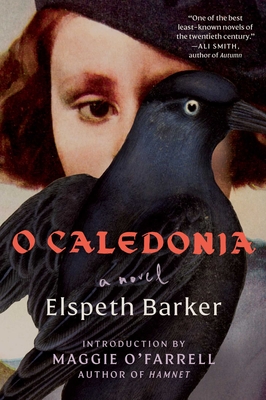 Staff Reviews
---

This book is exquisite. It manages to blend Gothic literature and a coming-of-age story, blurring the lines between the genres with prose so sublime that it will echo in your heart long after you've put the book down. Our protagonist is a murdered teenage girl: moody, eccentric, prone to daydreams, and utterly insufferable to those around her. The book begins with her corpse and pages about how she will soon be forgotten by those who knew her best, but I know I won't be forgetting about her any time soon. — From Bee's Picks
Description
---
In the tradition of Shirley Jackson's We Have Always Lived in the Castle, a darkly humorous modern classic of Scottish literature about a doomed adolescent growing up in the mid-19th century—featuring a new introduction by Maggie O'Farrell, award-winning author of Hamnet.

Janet lies murdered beneath the castle stairs, attired in her mother's black lace wedding dress, lamented only by her pet jackdaw…

​Author Elspeth Barker masterfully evokes the harsh climate of Scotland in this atmospheric gothic tale that has been compared to the works of the Brontës, Edgar Allan Poe, and Edward Gorey. Immersed in a world of isolation and loneliness, Barker's ill-fated young heroine Janet turns to literature, nature, and her Aunt Lila, who offers brief flashes of respite in an otherwise foreboding life. People, birds, and beasts move through the background in a tale that is as rich and atmospheric as it is witty and mordant. The family's motto—Moriens sed Invictus (Dying but Unconquered)—is a well-suited epitaph for wild and courageous Janet, whose fierce determination to remain steadfastly herself makes her one of the most unforgettable protagonists in contemporary literature.
About the Author
---
In her career as a novelist and journalist, Elspeth Barker wrote for The Independent, The Observer (London), The Sunday Times (London), London Review of Books, and many others. Elspeth also taught Latin at what she described as a naughty girls' school on the Norfolk coast and worked as a tutor and lecturer in creative writing at the Norwich School of Art and Design. She published her first novel, O Caledonia, at the age of fifty-one. O Caledonia was awarded the Winifred Holtby Memorial Prize and was shortlisted for the Whitbread Prize. Elspeth was married to the poet George Barker and she died in 2022.

Maggie O'Farrell is the author of the #1 Sunday Times (London) bestselling memoir I Am, I Am, I Am and eight novels, including The Distance Between Us, which won the Somerset Maugham Award; The Hand That First Held Mine, which won the Costa Novel Award; Instructions for a Heatwave, shortlisted for the Costa Novel Award; This Must Be the Place, shortlisted for the Costa Novel Award; and Hamnet, winner of the 2020 Women's Prize for Fiction, the 2020 NBCC Award for Fiction, the 2020 Waterstones' Book of the Year, and was the Fiction Book of the Year at the 2021 British Book Awards. She lives in Edinburgh.
Praise For…
---
"A surreal, hilarious, and dark story of a troubled adolescence deep in the wilds of Scotland. I once decided to become friends with someone on the sole basis that she named O Caledonia as her favourite book." —Maggie O'Farrell, author of Hamnet

"Though the novel opens with Janet newly dead, murdered on a staircase, it is full of life, energized by Ms. Barker's thistle-sharp eye for natural detail." —The New York Times

"If you need proof that novels are the best available technology for placing yourself inside the consciousness of an imaginary figure, "O Caledonia" makes a strong case." —Molly Young, The New York Times

"This is an extraordinary novel: original, beautiful yet tough, with a sympathetic outsider of a heroine whose tragic fate is depicted on the very first page. . . . Barker's love of the classics, her focus on mothers and daughters, and her remarkable evocation of landscape, should mark her out as one of Scotland's principal writers." —Financial Times

"Elspeth Barker's is a wholly original literary voice. . . . Steeped in classical allusions, rich in Scottish and natural history, fantastical in its highly wrought characters, this coming-of-age-novella is as passionately intense as it is wittily acerbic. . . . Propelled by the sheer force of words, the horrors and humours plunge on, observed by an eye both youthful and perspicacious. . . . The reader feels unalloyed joy, and occasional winces, on every page." —The Independent

"O Caledonia is like a bunch of flowers. Vivid images are handed to the reader one after the other and the colours are often freakish." —The Guardian

"Like I Capture the Castle if it had been written by Shirley Jackson, O Caledonia is biting, comic, and endlessly charming."—Vox

"O Caledonia delights in defying convention. It is a brooding, scintillating coming-of-age tale, full of delicate fashionings... a lyrical evocation and a hymn to originality."—The Economist

"O Caledonia is a Gothic coming-of-age story, the Brontes and Poe via Dodie Smith and Edward Gorey. Funny, surprising, exquisitely written—and brilliant on the smelly, absurd, harsh business of growing-up." —David Nicholls, author of One Day

"A sparky, funny work of genius about class, romanticism, social tradition and literary tradition, and one of the best least-known novels of the 20th century." —Ali Smith

"A wonderful oddity—brief, vivid, eccentric, written with ferocious zest and black humour." —Penelope Lively

"Witty, civilized. . . . With ravishing descriptions of nature which manage to be simultaneously rapturous and precise." —New York Review of Books

"A poetic and passionate description of adolescence. The words sing in their sentences. A world is evoked that has shades of the Brontë sisters and of Poe. . . . O Caledonia sets dreams and longing against Scottish righteousness and judgement, and the resolution is the blade of a skinning knife." —The Times (London)

"An absolute sumptuous treat of a book." —Elizabeth Macneal, author of The Doll Factory

"A poetic and blackly comic account of an unhappy childhood in a remote setting, recreated so sensuously it makes you feel the wind on the heath. Exquisite." —Independent on Sunday

"Beautifully written. . . . A remarkable debut." —Times Literary Supplement

"Animals, Sir Walter Scott's 'alert and wild' Caledonia, and literature are central to Elspeth Barker's marvellously worked and wielded first novel. The love of words, the recognition of their power to give a pulse-beat to narrative, made me think of Djuna Barnes as I read, and re-read, for pleasure O Caledonia." —Glasgow Herald

"A novel which, like its heroine, is unique. Poetry flows as rich as blood through the veins of this narrative." —Scotsman

"Beautifully lyrical evocations of place and emotion." —Kirkus