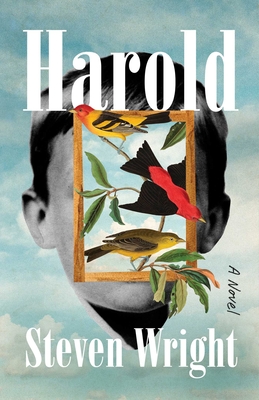 Staff Reviews
---
I've annoyed enough of my coworkers with my love of Steven Wright's brand of comedy that there was no way that I was going to pass this one up. Turns out, it's pretty good. Any fan of Wright's stand-up will find bits of his act peppered through Harold's expository comprehension of life's mundanity to make the sparse writing style fantastic and (of course) funny. For those fascinated by An Yu or any of the new-fabulists, this book will give you the nostalgia, humor and literary resonance that you're looking for.
— From
Trevor's Picks
Description
---
A uniquely humorous and deeply profound novel from a legendary stand-up comedian that follows the thoughts of a 1960s third grader during a single day at school.

Steven Wright is one of the most significant and influential stand-up comedians in history. Rolling Stone ranked him fifteenth on their "50 Best Stand-ups of All Time" list, while the New York Times has written of his enduring legacy: "If you made a family tree of modern stand-up, he would top one of the few major and expanding branches. The children of Mr. Wright pack the comedy scene today." Now comes his first novel, which is sure to be unlike anything you've ever read.

From the outside, Harold is an average seven-year-old third grader growing up in the 1960s. Bored by school. Crushing on a girl. Likes movies and baseball—especially the hometown Boston Red Sox. Enjoys spending time with his grandfather. But inside Harold's mind, things are a lot more complex and unusual. His thoughts come to him as birds flying through a small rectangle in the middle of his brain. He visits an outdoor cafe on the moon and is invited aboard a spaceship by famed astronomer Carl Sagan. He envisions his own funeral procession and wonders if the driver of the hearse has even been born yet.

Harold documents the meandering, surreal, often hilarious, and always thought-provoking stream-of-consciousness ruminations of the title character during a single day in class. Saturated with the witticisms and profundities for which Wright's groundbreaking stand-up has long been venerated, this novel will change the way you perceive your daily existence. To quote one of its many memorable lines: "Everything doesn't have to make sense. Just look at the world and your life."
About the Author
---
Steven Wright has performed stand-up comedy for more than four decades. He was nominated for two Grammy Awards for his albums I Have a Pony and I Still Have a Pony, starred in three critically acclaimed hour-long stand-up specials, and was nominated for two Emmy Awards. He also won the 1989 Academy Award for Live-Action Short for his film, The Appointment of Dennis Jennings, and he wrote and directed the short film, One Soldier. His many film and TV appearances include Saturday Night Live, The Tonight Show, Late Show with David Letterman, The Larry Sanders Show, Mad About You, Horace and Pete, Reservoir Dogs, Natural Born Killers, Coffee and Cigarettes, Half Baked and Desperately Seeking Susan. He lives in New England.
Praise For…
---
"Like Catcher In the Rye on mushrooms. Read this goddamn book. It's a masterpiece. Steven Wright is a genius." —Bill Burr

"Really funny and touching. Harold is beautifully written. Only Steven Wright could write this, and I love it." —Conan O'Brien

"A strange and wonderful book…There are shades of Vonnegut in Wright, and shades of John Irving's Owen Meany in the precocious Harold." —Michael Ian Black, The New York Times Book Review

"If Kurt Vonnegut and Calvin and Hobbes creator Bill Watterson wrote a literary version of Harold and the Purple Crayon, they might have concocted an absurdist novel like Harold. Or maybe, Harold could only have come from the off-kilter but fertile musings of stand-up legend Steven Wright...His deadpan delivery elevated him to the top of the stand-up world in the 1980s. That same originality and dry humor ricochets throughout his novel." —Stuart Miller, The Los Angeles Times

"Harold is often funny…as if Donald Barthelme had been assigned to rewrite The Little Prince. Wright has invented something here: A story about a child that refuses to be childlike, authored by an author who refuses to pretend that there's order to the disorganized mind of a too-smart kid who can't keep on task." —Mark Athitakis, The Washington Post

"Readers enthralled by stand-up comedian Wright's uniquely brainy, topsy-turvy, metaphysical, and epigrammatic humor will revel in Harold's uncanny, sharply funny, and profound ponderings in this sardonic yet tender tale of life's mysteries and the mind's marvels." —Donna Seaman, Booklist