Fight or Flight: Negotiating Crisis on the Front Line (Paperback)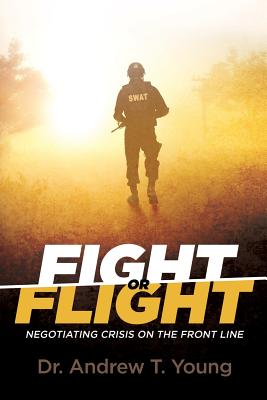 $24.99
Email or call for price.
Description
---
Join Dr. Andy Young on an "up close and personal" journey into the world of crisis negotiation. Experience a 360-degree panorama of hostage situations from the vantage points of SWAT teams, police, victims, the bad guys, and the specially trained mental health professionals who help save lives and bring relief to the extreme distress that comes with the trauma of crisis. Aside from the drama, danger, tension, and terror of crisis situations, the crux of this book is a profound and deeply human story of real people and real stories-perpetrators, victims, law enforcement, and families-and the very real challenges they face in dealing with the emotional and psychological trauma of crisis situations. It is also a story of the dedicated crisis negotiators and counselors who devote countless hours to helping those traumatized by tragedy navigate safely through some of the worst experiences of their lives. Supremely, it is a story of courage and compassion, rescue and restoration for victims, families, and law enforcement alike. Dr. Young's book brings long overdue and well-deserved honor to the people who risk their lives regularly, not only for public safety, but also for the often-underestimated value of the mental wellbeing of everyone involved.
About the Author
---
Andy Young received a bachelor's degree in Bible from Lubbock Christian University in 1993, a masters degree in Youth and Family Ministry from Abilene Christian University in 1995, a masters in Community Counseling from Texas Tech University in 1999, and a doctorate in Counselor Education from Texas Tech University in 2003. He has been a professor at Lubbock Christian University since 1996 and currently teaches in the undergraduate Behavioral Sciences Department and graduate Nursing department. He has also taught in the graduate Counseling and undergraduate Bible departments. He has worked with the Lubbock Police Department since 2000 and the Lubbock County Sheriff's Office since 2008 and currently serves on the negotiating teams for both agencies. He also serves as a clinical director for the Critical Incident Stress Management Teams for the South Plains Regional Response Team, the Lubbock Police Department, and the Lubbock Fire Department. Dr. Young is a founding member and current coordinator for the Lubbock Police Department's Victim Services Crisis Team, which has now grown to 40 members. He has many published academic articles and speaks frequently on crisis intervention, and has spoken at many state association of hostage negotiator conferences. He married his wife in 1995 and they have two young children.