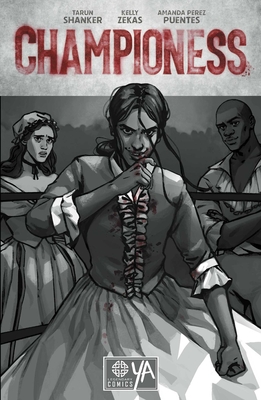 Description
---
Based on a true story, in eighteenth century London, Elizabeth Wilkinson struggles to make ends meet for her and her sister Tess while facing the fiercest female bare-knuckle boxers of her day.

Elizabeth Wilkinson's passion is bare-knuckle boxing. While working odd jobs to help her sister Tess pay off substantial debt, she earns extra coin fighting in back alleys and pubs. But when Tess's debts suddenly come due, Elizabeth bets everything on boxing to save Tess from debtors' prison.

As she trains to become the best female fighter in London, she must face her family's painful past, confront the boxing rival from her childhood, and defy the discrimination she encounters as a half-Indian woman in a white, male-dominated prize-fighting world. With the help of her trainer and fellow boxer, James Stokes, Elizabeth fights to free her sister and prove herself to be England's CHAMPIONESS.
About the Author
---
Kelly Zekas lives in NYC with her dog and fiancé, splitting her time between working as an office manager by day and writer by night, weekend, and lunch break. When not working, she can be found at her boxing gym or devouring a romance novel. She is the co-author of the These Vicious Masks trilogy with Tarun Shanker.

Tarun Shanker is a mild-mannered assistant by day and a milder-mannered writer by night, currently living in Boston. His idea of paradise is a place where kung-fu movies are projected on clouds, soul music fills the air and chai flows freely from the fountains. He is the co-author of the These Vicious Masks trilogy with Kelly Zekas.

Amanda Perez Puentes is a Venezuelan illustrator and comic artist. She received a BFA in Painting and Drawing from Concordia University in Montreal. She now lives in Toronto with her partner and two very spoiled rats.