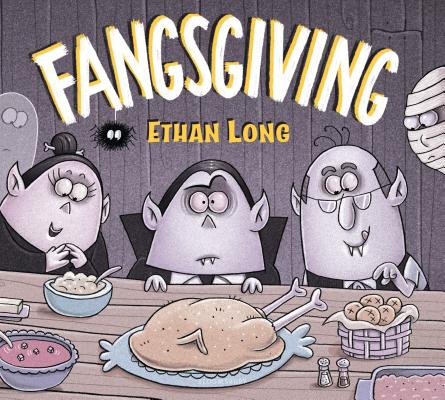 $17.99
Not Available In-Store - Usually Ships from Warehouse in 1-5 Days
Description
---
Geisel Award-winning author and illustrator Ethan Long turns his attention to the day of thanks with a story that's to die for.

It's the fourth Thursday of November, and the members of Fright Club are cooking up something spooky . . . a Thanksgiving feast!

But when Vlad's family arrives unexpectedly, they put their own spin on each of the dishes. Now, the rolls are as hard as headstones and the turkey has been cooked to death. Vlad loves his family, but they've made a mess of their meal!

Can this monster-filled family come together to save their feast and celebrate what the holiday is truly about?
About the Author
---
Ethan Long is the acclaimed author and illustrator of many books for children, including Hello, World!, Sun and Moon Together, and Cars, Signs, and Porcupines, Books 1, 2, and 3 in the Happy County series, as well as Tickle the Duck, Fright Club, Valensteins, Fangsgiving, Chamelia and Up, Tall and High!, for which he received the Geisel Award. He is the illustrator of Dump Truck's Colors and Cement Mixer's ABC, two board books in the bestselling Goodnight, Goodnight, Construction Site series. He is also the creator of the animated, Emmy-nominated series Tasty Time with ZeFronk. Ethan lives with his family in Orlando, Florida.
Praise For…
---
"With Halloween still fresh in the minds of children, Long's use of monsters to portray a family Thanksgiving is ingenious. . . . This engaging picture book celebrates the gathering of family and friends; helping young readers to understand and appreciate the value of giving thanks." - School Library Journal

"Long's graphite pencil and digitally colored illustrations are packed with gross-out details that will have kids in stitches." - Kirkus Reviews

"This cast of Halloween characters is more adorable than scary. This family-oriented tale will have life through several holidays." - Booklist

"Holidays don't always go as planned, Long asserts, and that's okay." - Publishers Weekly

"Long's digitally colored graphite-pencil illustrations amp up the humor." - Horn Book Magazine

"Long's sense of comic timing is utter perfection. Hysterically plays on kids' stereotyped notions of love, hopefully putting some to rest." - Starred review, Kirkus Review on VALENSTEINS

"There are lots of laughs to be found in Long's twilit cartoons and the banter among the characters" - Publishers Weekly on VALENSTEINS

"Long's dark, ghostly palette sets an appropriately eerie mood, and he has a lot of fun with the cuddly animals' reign of terror. . . . Don't worry about what goes bump in the night, Long seems to suggest--daylight can be plenty scary, too." - Starred review, Publishers Weekly on FRIGHT CLUB

"Long delivers an original story full of droll humor while also introducing the concept of questioning stereotypes and rules. . . . Long ably proves that 'when it comes to scaring, the more the merrier.' " - Kirkus Reviews on FRIGHT CLUB

"Silly but entertaining." - School Library Journal on FRIGHT CLUB

"It's a funny Halloween concept that delivers." - The Horn Book on FRIGHT CLUB

"The lighthearted tone makes this Halloween tale a perfect pick for younger children. Monster names such as Virginia Wolf and Mumford N. Suns will entertain the adults as well." - Booklist on FRIGHT CLUB