Guston in Time: Remembering Philip Guston (Paperback)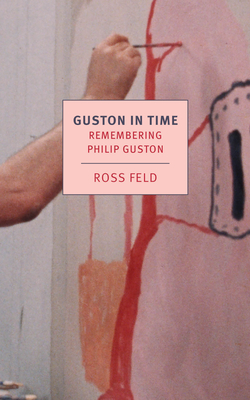 $17.95

Special Order - Subject to Availability
Description
---
In this warm and vibrant work of memoir and criticism, a young writer forges a friendship with Philip Guston, one of the most influential and controversial painters of the twentieth century.

The late work of Philip Guston has had a profound influence on painters today, but as Guston's star has risen, it has been forgotten how scandalous these paintings, with their cartoonish imagery and almost fumbling application of paint, were initially deemed to be. The 1970 show at the Marlborough Gallery in which Guston, abandoning the delicate abstract expressionism for which he was known, revealed his new style, was critically savaged. In the aftermath of this drubbing, he retreated to his studio in Woodstock, New York—in part to nurse his wounds but, more important, to go on painting exactly as he saw fit.

Ross Feld, a young poet, novelist, and critic, was one of the rare critics to respond favorably to Guston's late work. Guston answered with a grateful note, and a new friendship was soon born. Guston in Time, written not long before Feld's early death from cancer, is a portrait of Guston the man; and of his wife, Musa, a major figure not only in his life but in his work; a reckoning with his supremely individual achievement as an artist; and a work of art in its own right.

A retrospective of Guston's work, Philip Guston Now, will be on view at the Museum of Fine Arts, Boston, from May 1 to September 11, 2022; at the Museum of Fine Arts, Houston, from October 23, 2022, to January 15, 2023; at the National Gallery of Art, Washington, D.C., from February 26 to August 27, 2023; and at the Tate Modern, London, from October 3, 2023 to February 4, 2024.
About the Author
---
Ross Feld (1947–2001) is the author of the novels Years Out, Only Shorter, Shapes Mistaken, and Zwilling's Dream, and a collection of poetry, Plum Poems. He befriended Philip Guston in 1976 after reviewing a show by the artist, and the two maintained a close relationship until Guston's death in 1980.
Praise For…
---
"Feld's book, published shortly after the writer's death in 2001, is as much a critical exegesis of Guston's work as it is a memoir of their acquaintance. It's also an homage to the artist and his willingness to think outside the box. Excerpts from Guston's letters allow readers to hear his voice as they're taken through his work and its stylistic heresies, which are emulated to this day." —Howard Halle, ArtNews

"Quietly no less vital [than the exhibition catalog] in grasping Guston's contribution to post-war American art and his abiding significance to contemporary painters. . . . Among those who best captured the painter's final-decade achievements was Ross Feld, another poet and a rare moral support after he'd been shunned by the art world—even by old friends like the composer Morton Feldman—following his figurative rupture." —Ben Luke, The Art Newspaper

"These two high-octane minds in dialogue, in deep, respectful friendship, resound in their letters like a piano sonata for four hands that's part Schubert, part Busoni. And then there's the enclosing arch of Feld's visionary evocation of Guston's quest and Guston's vulnerability. . . This is a beautiful, mysterious, generous book." —Susan Sontag

"Guston's art never goosestepped in time to aesthetic orthodoxy. Neither does Ross Feld's exhilarating, stylistically-inventive book. Part criticism, part memoir, part meditation on art and death, Guston In Time is a revealing portrait of not only the painter, but of a passionate friendship. "We are necessary absolutely to each other," Guston declared to Feld. Witnessing this duet of ferocious yet generous intelligences, we can see why. Feld argues that to create, an artist must both expose himself and hide—often at the same time. What a privilege it is to share both men's creative processes." —Lisa Zeidner

"A moving memorial to a deep and supportive friendship. . . Feld's readings of a number of [Guston's] paintings, informed by his intimacy with the artist, are near-definitive models of passionate clarity and explication. . . This book is valuable, too, for the light it sheds on the often ill-understood reciprocal nature of the relationship between artists and critics. . . [A] remarkable volume, which recalls Rilke's Letters on Cezanne in its joyful intensity." —Publishers Weekly

"This irresistible hybrid—part memoir, part art criticism, part biography, part meditation on death—employs language with such richness that it seems a species of prose poetry. The combination of Feld's startlingly insightful writing with the astonishing candor of Guston's letters, is unique and compelling. . . . Looked at one way, this book is a small, perfect elegy; looked at another, it is an even more complicated achievement. The three modes that Feld nominates as central to Guston's art—"theatrical, asymmetrically plural and philosophical"—are Feld's own strengths as well and this book fairly vibrates with their considered application." —Robert Enright

"Friendships and devoted correspondents across various disciplines give us a special glimpse into why we are all involved in this thing called culture. The Guston-Feld correspondences have the immediacy and urgency that we usually experience only in artists' studios in front of new work or over drinks and a pack of cigarettes throwing around new ideas. Reading this book you can taste the scotch and smell the smoke, and feel the ideas forming." —Micheal Auping

"An affectionate homage. . . Feld escorts the reader through Guston's idiosyncratic iconography and in a loosely chronological fashion easily moves from anecdote to analysis of paintings. . . Feld's effortless prose sets the reader in the studio, in the kitchen, in an Italian restaurant, as he captures his friend's animus." —Kirkus Reviews