The Complete Photo Manual (Revised Edition): Skills + Tips for Making Great Pictures (Paperback)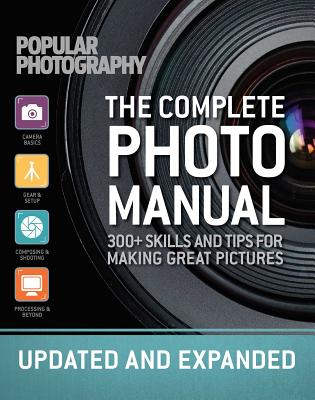 $29.00

Special Order - Subject to Availability
Description
---
Today's cameras are more powerful and easy to use than ever—and thanks to The Complete Photo Manual Revised Edition, picture-perfect photos are just a shutter's click away! This revised edition includes a fresh basics section to help true novices master their machine, with fantastic info on exposure, focus, aperture, shutter speed, flash, and more. Plus, it contains updated software advice and tons of new, on-trend tutorials for the aspiring photographer!

This comprehensive, all-in-one guide demystifies today's DSLRs and ILCs, walking you through their basic functions and setting you up for photo-making success, as well as offering creative projects for more advanced photographers. From setting a proper exposure to Photoshopping images together into clever composites, The Complete Photo Manual Revised Edition has you covered!

With chapters on:

Camera Basics Take a crash course in exposure, focus, aperture, shutter speed, white balance, and more so you can master the fundamentals.

Composition & Shooting Get out there and start shooting! This chapter helps you pick subjects, compose on the fly, work your camera settings as you go, correct for problematic situations, use a tripod, choose the right lens for your scene, and explore different storytelling idioms.

Setup & Gear Graduate to a more robust photography kit with discussions of lights, light modifiers, and more. Here, you'll learn how to shoot more ambitious portraits, still lifes, and action shots.

Photo Editing & Beyond Make your photos even better with tried-and-tested tutorials in Photoshop and Lightroom, plus quick tips and image organization hacks.

Packaged in a durable, wipe-clean flexicover with metallic corner-guards, this practical manual withstands heavy-duty use indoors and out.
About the Author
---
Combining stunning images, expert advice, and rigorous product testing and analysis, Popular Photography gives photographers at every level of experience all the tools, techniques, and inspiration they need to make great pictures. It shares both unmatched authority and you-can-do-it enthusiasm with its audience in print and digital editions, social media and mobile apps, and on the Web. With over 70 years of expertise, Popular Photography is the world's largest how-to monthly magazine for image-making enthusiasts.