Brains Explained: How They Work & Why They Work That Way | STEM Learning about the Human Brain | Fun and Educational Facts about Human Body (Hardcover)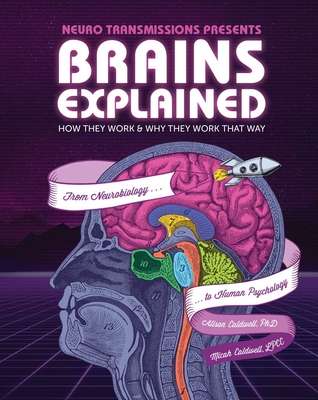 $25.00

Not Available In-Store - Usually Ships from Warehouse in 1-5 Days
Description
---
Curious about how billions of neurons make up your consciousness? How anxiety hijacks your body? Why Freud was such a weirdo? Whether AI will replace your therapist? This witty, enlightening book, written by a brilliant neuroscientist and clinical therapist duo, uncovers the stunningly-intricate universe of the human brain in fun, awe-inspiring detail.

Neuroscientist Alie Caldwell and clinical therapist Micah Caldwell created the YouTube channel Neuro Transmissions in 2015 with a singular mission in mind: explain the brain . . . simply! Whether it's delving into the neuroscience of street drugs or illustrating the psychology of cat behavior, Alie and Micah break down that impossibly complex organ living in your head without all the jargon. Their first book will expose the fascinating, often shocking stories about the brain and have you ditching the dusty textbooks.

This book scrutinizes the sometimes-dubious history of brain science from a modern perspective, wanders through explanations about how your senses trick you into believing some wild things, speculates about whether we'll be able to upload our consciousness to the Matrix, and so much more.

With two exceptional authors and an unbelievable number of intriguing and educational brain facts, Brains Explained is sure to be one of the most cherished popular science titles on your bookshelf for years to come.
About the Author
---
Alison (Alie) Caldwell has a B.S. in Brain and Cognitive Sciences from MIT (2011) and a Ph.D. in Neurosciences with a Specialization in Anthropogeny from UC San Diego (2019). Her dissertation research focused on how glial cells known as astrocytes affect the way neurons grow and develop in genetic neurodevelopmental disorders. She is now a full time science writer, supporting other scientists in communicating their research.

Micah Caldwell received his B.A. in Psychology and Spanish from Saint Louis University (2011), an M.S. in Clinical Mental Health Counseling from Marquette University (2013), and is a Licensed Professional Clinical Counselor in California (LPCC) and Illinois (LCPC). As a therapist, he has worked with a diverse array of clients and populations, including individuals recovering from addictions, the homeless, recently-incarcerated adults with severe mental illnesses, and children seeking asylum.