Collected Millar: The Master at Her Zenith: Vanish in an Instant; Wives and Lovers; Beast in View; An Air That Kills; The Listening Walls (Paperback)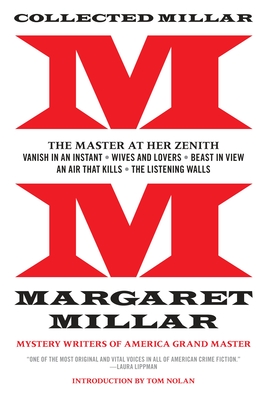 $17.99
Email or call for price.
Staff Reviews
---
When I think of women in the 1950's, the mental image I conjure up is that of a perfectly coiffed and pearled housewife, smiling blankly at her lovely, oppressive life through a barbiturate haze. Margaret Millar was not that bleary hausfrau! She wrote her way through the 40's, 50's, 60's, 70's, and 80's, piercing psychological thrillers that defied the stereotypes of how women thought and acted. The Master at Her Zenith is a collection of five of these books and, despite the heft, I couldn't put it down! I loved Millar's acute observations into her characters' inner lives and the way her endings were always just around the corner from what I expected. This is Chandler noir for Gillian Flynn readers!
—
Lauren
Description
---
Five acclaimed novels from the Golden Age of Suspense, including the Edgar Award-Winning Novel Beast in View

Introduction by Tom Nolan

In 1950s America the men are back to work and the women are home raising a new generation. The war is over and the boom is on. Everyone is happy. It is to this myth of the perfect American family that novelist Margaret Millar applied her scalpel.
 
This volume includes five of Millar's novels of the 1950s, among her best-known works of literary suspense as well as some of the most compulsively readable, please-leave-a-light-on thrillers ever put to paper.

VANISH IN AN INSTANT (1952)
In this classic noir tale of blurred guilt and flawed innocence, a cynical lawyer uncovers the desperate lives of a group connected only by a gruesome murder.

WIVES AND LOVERS (1954)
A sincere and compassionate novel about the complications of married life, and the love, loathing, pain, loyalty, disappointments and friendship that grow out of a marriage.

BEAST IN VIEW (1955) – Winner of the Edgar Award for Best Novel
Hailed as one of the greatest psychological mysteries ever written and winner of the 1956 Mystery Writers of America Edgar Award for Best Novel, Beast in View remains as freshly sinister today as the day it was first published.

AN AIR THAT KILLS (1957)
When Ron Galloway never arrives at a boys' weekend fishing retreat, it becomes increasingly clear that something terrible has befallen him. Was he a victim of his own lust? Or of someone else's greed?

THE LISTENING WALLS (1959)
In this suspenseful masterpiece about corrupted love, Rupert Kellogg's wife, Amy, goes missing after an ill-fated trip to Mexico—and Rupert becomes the focus of a paranoid investigation.
About the Author
---
Margaret Millar (1915-1994) was the author of 27 books and a masterful pioneer of psychological mysteries and thrillers. Born in Kitchener, Ontario, she spent most of her life in Santa Barbara, California, with her husband Ken Millar, who is better known by his nom de plume of Ross Macdonald. Her 1956 novel Beast in View won the Edgar Allan Poe Award for Best Novel. In 1965 Millar was the recipient of the Los Angeles Times Woman of the Year Award and in 1983 the Mystery Writers of America awarded her the Grand Master Award for Lifetime Achievement. Millar's cutting wit and superb plotting have left her an enduring legacy as one of the most important crime writers of both her own and subsequent generations.
Praise For…
---
PRAISE FOR COLLECTED MILLAR

A Boston Globe Best Book of 2016

"Millar's mysteries are filled with clever twists, yet what makes them special is her surgical approach to her characters' inner lives. She's got an eagle eye for the juicy stuff lots of mystery writers still ignore—questions of class, status, sexual desire and the difficult position of women. This last was something she knew about firsthand. Millar's work was long overshadowed by that of her husband, detective novelist Ross Macdonald. In fact, her best novels — like 1955's Beast in View — have a ferocious edge that make him look rather tame."
—John Powers, NPR's Fresh Air

"One of the greatest this country has ever produced."
—The Globe and Mail

"[Millar] writes with care and devises clever plots, holding back plenty of surprises until she is ready to let the reader know... She exhibits a virtuoso talent for creating distinct identities for her characters, even if they  might have more than one identity."
—The Buffalo News

"A writer whose own work is every bit as psychologically bruising and critically acclaimed as that of her husband [Ross Macdonald], if not as well known. But [Syndicate Books] hopes to rectify that with Collected Millar."
—Kevin Burton Smith, Mystery Scene Magazine

"Razor-sharp."
—The Seattle Times

"A major project."
—Alfred Hitchcock Mystery Magazine

"Classic, taut, original prose."
—Campus Circle

PRAISE FOR MARGARET MILLAR

Mystery Writers of America Grand Master
Winner of the Edgar Award for Best Novel
Los Angeles Times Woman of the Year

"One of the most original and vital voices in all of American crime fiction."
—Laura Lippman
 
"I long ago changed my writing name to Ross Macdonald for obvious reasons."
—Kenneth Millar (Ross Macdonald), in a letter to the Toronto Saturday Night newspaper
 
"Very Original."
—Agatha Christie

"Stunningly original."
—Val McDermid

"She has few peers, and no superior in the art of bamboozlement." 
—Julian Symons

"Written with such complete realization of every character that the most bitter antagonist of mystery fiction may be forced to acknowledge it as a work of art."
—Anthony Boucher reviewing Beast in View for the New York Times

"Margaret Millar can build up the sensation of fear so strongly that at the end it literally hits you like a battering ram."
—BBC 

"Wonderfully ingenious."
—The New Yorker

"Brilliantly superlative… One of the most impressive additions to mystery literature—and the word "literature" is used in its fullest sense."
—San Francisco Chronicle

"In the whole of crime fiction's distinguished sisterhood, there is no one quite like Margaret Millar."
—The Guardian

"A superb writer."
—H.R.F. Keating   

"She writes minor classics."
—Washington Post   

"Mrs. Millar doesn't attract fans she creates addicts." 
—Dilys Winn, namesake of the Dilys Award