It's Not What You Thought It Would Be (Hardcover)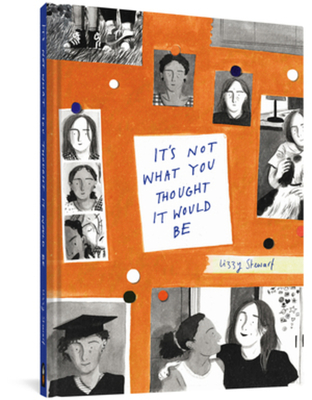 August 2021 Indie Next List
---
"Through Lizzy Stewart's wistful art, these stories feel like bruises that leave you tender, thoughtful, and forgiving for not living up to your own expectations when adulthood isn't at all that you'd imagined."
— Julie Jarema, Avid Bookshop, Athens, GA
Description
---
This poignant coming-of-age story follows several young women on their circuitous paths to adulthood.
A young girl imagines a grand future for herself, far from the drab British suburbs. Two friends, once inseparable, find their connection gradually slipping away. Three women discuss how life in the big city makes them feel seen — or invisible. In a series of interconnected vignettes, It's Not What You Thought It Would Be explores the circuitous paths lives can take and the changes in perspective gained along the way.
In a series of interconnected vignettes, Stewart focuses on the ordinary, slice-of-life moments — teenagers climbing up and lounging on a rooftop, friends catching up over pints at the pub, a woman riding the night bus home — and charges these scenes with a quiet intensity. Through keen observation and an ear for naturalistic dialogue, she reveals the complex natures of her characters, from their confidence to their insecurities, as they experience the joys and pains of growing up. Drawn in a variety of different styles, from watercolor to colored pencil to pen and ink, the style of this book echoes the evolution of the characters within.
About the Author
---
Lizzy Stewart is an illustrator and author from Plymouth who lives and works in London. She has written and illustrated three picture books for children as well as the graphic novella Walking Distance and the graphic novel It's Not What You Thought It Would Be. Her debut picture book There's a Tiger in the Garden won the Waterstones Children's book prize for picture books in 2017 as well as a World Illustration Award. She teaches illustration at Goldsmith's college.
Praise For…
---
Mournful, lovely ... Stewart's dynamic, warm, flowing art invites the reader in.
— The New York Times

This brilliant debut collection of gorgeous, clever short stories explores the intensity of teenage ennui and female friendship, with a deft feel for its slights and tensions.
— The Guardian

From black-and-white sketches to full-color drawings, Stewart's stories are linked by feelings of uncertainty and acceptance as friends and strangers alike confront the many ways in which expectations rarely match up with reality.
— The Paris Review

Enjoyable, relatable comics about the perplexing process of growing up.
— Booklist

The soft lines and muted colors or monochrome of Stewart's art subtly heightens the emotionality. There's a quiet but powerful immediacy to this that will appeal to lit fic fans who may not always pick up comics.
— Publishers Weekly

All very real and true to life, these stories leave you with refreshing, nostalgic memories of adolescence.
— CNMN Magazine

Through Lizzy Stewart's wistful art, these stories feel like bruises that leave you tender, thoughtful, and forgiving for not living up to your own expectations when adulthood isn't at all that you'd imagined.
— American Booksellers Association

Lizzy Stewart cleverly examines the ebbs and flows of women's relationships from childhood to adulthood in her insightful adult graphic debut. Her compassionate depictions of women alone, women together, will undoubtedly find welcoming audiences.


— Shelf Awareness

In beautifully observed moments on buses, in pubs and on rooftops, Lizzy Stewart delicately captures the ebb and flow of friendships over time, and how the long uneventful afternoons of childhood can linger on into our adult lives.
— Jon McNaught (Kingdom)

Lizzy Stewart's book captures snapshots of life unfolding through small, evocative moments rich with meaning and mood. A beautiful, poignant and funny exploration of the unpredictability of life.
— Katriona Chapman (Breakwater)

Each of Lizzy Stewart's carefully fragmented stories deftly takes us on a journey from the long tedium of a teenage summer to the uncertainty and anxiety of adulthood. It is a quietly powerful book, and Stewart's well chosen and often witty dialogue goes straight to the heart. Her artwork is filmic and beautiful and the muted colors and huge, washed skies are the perfect backdrops to this story.
— Isabel Greenberg (Glass Town)