Marvel Action: Avengers: Off The Clock (Book Five) (Paperback)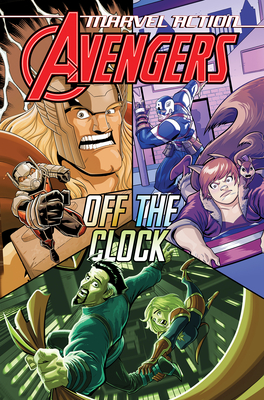 $9.99
Email or call for price.
Description
---
Grab a teammate and strap in for adventure, Avengers-style! Three action-packed stories featuring unlikely superhero pairs joining forces to thwart the plans of outrageous villains!

First, in order to stop Loki's newest scheme, Thor and Ant-Man go...antiquing? Then, while visiting an elementary school, Captain America runs into the nefarious Trapster! With scores of children in peril, Cap must rely on the aid of none other than Squirrel Girl! And, after Thor and Cap's difficulties, find out what the rest of the Avengers are up to on their day off! Chaos reigns as a fiendish villain makes off with one of Dr. Strange's most powerful artifacts!

The Marvel Action line from IDW makes the world's most popular superheroes accessible to middle-grade readers through stories that emphasize humor and fun just as much as action and super-powered heroics.

Collects issues #1-3 of Marvel Action Avengers Vol. Two.
About the Author
---
Katie Cook is a comic artist and writer that hails from the mitten state (as in Michigan, not that she is in the state of being a mitten). She is the creator of the comic Gronk: A Monster's Story as well as working on IDW's smash-hit My Little Pony: Friendship is Magic. She has also done work for Marvel, DC, Disney, LucasFilm, Fraggle Rock, and many other companies. She also wrote some books about mean cats that people seem to like.
Praise For…
---
"There is a rollicking sense of fun that jumps off the page as Earth's Mightiest Heroes go for intentionally low-stakes missions designed to thrill younger readers of the Marvel icons." —CBR